Thailand cave rescue clears hurdle, divers reach passageway that may lead to youth soccer team
The rescue efforts to reach 12 boys and their soccer coach who went missing a week ago in a cave in Thailand reached a milestone on Sunday when divers were able to finally reach a passageway that could lead them to the team.
Divers have been searching the Tham Luang cave complex in Chiang Rai province in northern part of the country since last Saturday, after the group entered the cave after soccer practice and became trapped by muddy floodwaters spawned by heavy rains and have not been heard from since.
A team led by Thai Navy SEAL divers pushed through the murk of a half-mile-long chamber to a passageway that could lead to where the missing possibly took shelter, the SEAL's commander, Rear Adm. Arpakorn Yookongkaew, told the Associated Press on Sunday.
"It's still tough as the water stream is quite strong," he said.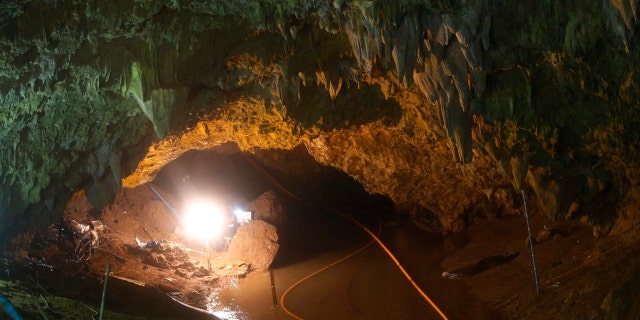 Over the past week, heavy rain has hampered search and rescue efforts, causing flooding which has stopped rescuers getting through chambers to get deeper into the cave.
On Saturday, the rain began to finally ease, allowing divers to finally start making progress through the murky water-filled passageways.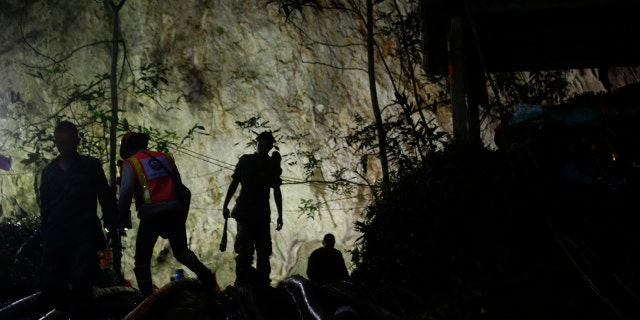 "Water has receded considerably and we are pumping out water in all chambers (near the entrance)," Chiang Rai governor Narongsak Osottanakorn told reporters, according to Sky News.
THAILAND CAVE RESCUE: SUPPLIES SENT DOWN SHAFT AS DESPERATE SEARCH FOR MISSING YOUTH SOCCER TEAM CONTINUES
Besides bicycles and football boots left near the cave's entrance and hand prints seen on the walls, there has been no contact with the boys, ages 11 to 16, or their 25-year-old assistant coach. Rescuers believe there is still a chance the group could survive.
Dr. Somsak Akkasilp, director-general of the Medical Services Department, told Reuters the group's survival depended on whether they found fresh drinking water, but he was concerned about the risk of infection from unclean water, or contact with some animal inside the cave.
"They should be okay without food for eight days," he said.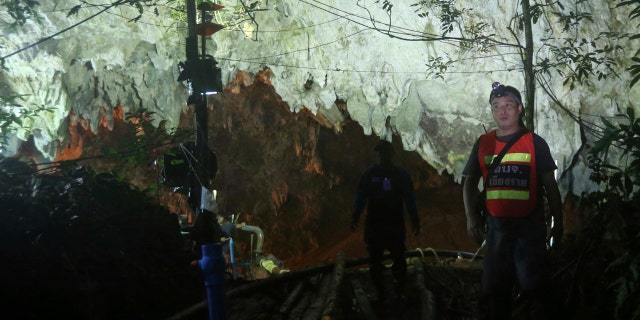 Search crews, including a U.S. military team, have been combing the mountainside looking for fissure that might lead to shafts that might serve as a back door to the blocked-off areas where the missing may be sheltering.
Several have been found and explorers have been able to descend into some, but so far it is not clear whether they lead to anywhere useful.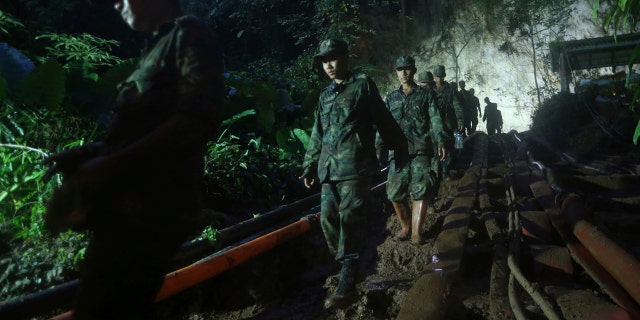 "We surveyed all areas and there were reported to be about 20, and out of that there are about 10 with the possibility of having shafts," Osatanakorn told reporters Sunday. "But at the moment, we have narrowed it down to two. Today we are working inside those two shafts."
US MILITARY JOINS SEARCH FOR MISSING BOYS IN THAILAND CAVE AS RESCUE SHIFTS TO HUNT FOR OTHER ENTRANCES
The divers' goal is to get to an area of the cave known as Pattaya Beach, a section of the cave has a higher elevation which authorities hope remained dry and the 13 missing took shelter there.
The search has been going slowly, largely because flooding has blocked rescuers from going through chambers to get deeper into the cave. Pumping water out of the cave hasn't solved the problem, so other teams have been looking to divert groundwater.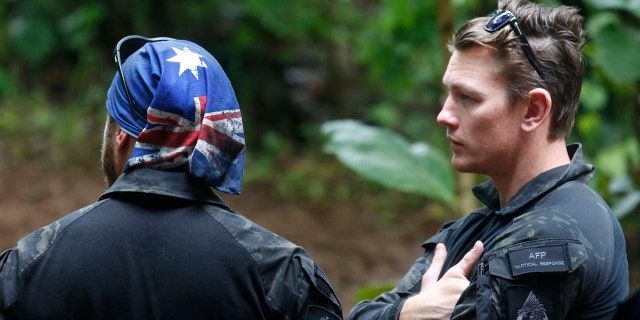 The cave complex extends several miles and has wide chambers and narrow passageways with rocky outcrops and changes in elevation. The chamber is about 2.5 miles from the entrance of the cave, which is thought to be about 4 to 5 miles long and cut into a mountainside in far northern Thailand near the border with Myanmar.
Fox News' Lucia Suarez and The Associated Press contributed to this report.