Thai court restores conviction of gunman in political strife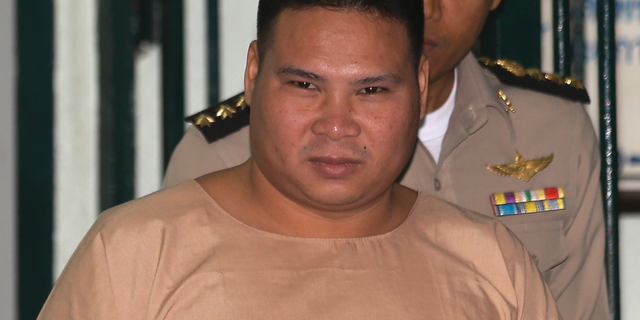 BANGKOK – Thailand's Supreme Court on Wednesday restored a 37-year prison term given to a gunman convicted of shooting four people during 2014 political violence.
Vivat Yodprasert was dubbed the "Popcorn Gunman" because he opened fire with an assault rifle concealed in a sack with the word "POPCORN" emblazoned on it. He was part of a mob that sought to disrupt preparations for an election during unrest that led to a May 2014 military takeover.
The court ruling overturned an appellate court's dismissal of the conviction, confirming him guilty of attempted murder, possession of guns and ammunition without a license and related charges. One of the people he wounded was a 72-year-old man who was left paralyzed and died seven months after the shooting.
The appellate court ruled last year that there was not enough evidence to convict Vivat in the shootings, which were carried out by a man wearing a balaclava to conceal his identity. In his original trial, Vivat received a 37-year, 4-month sentence, partly on the basis of a confession to police, but also because the shooting was carried out in front of hundreds of people and was captured in many photos and videos that served as evidence. However, he recanted his confession in court, claiming he had been tortured.
The shooter was believed to have fired his weapon from inside the sack in order to catch the used bullet casings so they could not be gathered as evidence.
Vivat has already spent around four years in detention, having been denied bail and kept in prison while his earlier acquittal was under appeal.
He displayed no emotion as Wednesday's verdict was delivered and had a brief exchange with relatives and his lawyer before officials sent him back to Bang Kwang prison.
His lawyer, Puangthip Boonsanong, said she respected the court's decision even though she had expected Vivat's acquittal to stand. She said she would now begin the process of requesting a royal pardon.
The February 2014 confrontation was one of several bloody incidents in months of unrest stirred up by opponents of then Prime Minister Yingluck Shinawatra's government, who called themselves the People's Democratic Reform Committee. They succeeded in disrupting the election, and the confrontations they staged served as an excuse for the army to take power in a coup that May. Thailand remains under military rule.