The United States tested its THAAD (Terminal High Altitude Area Defense) anti-missile system in a test on Tuesday, amid heightened tensions with North Korea, which conducted a missile test on July 4. Here are some quick facts about the program.
What is THAAD system's purpose?
It's "designed to intercept and destroy short and medium range ballistic missiles" in the final part of missile flights, U.S. Pacific Command Public Affairs said earlier this year, calling it "a strictly defensive capability."
What's involved in the system?
A THAAD battery is made up of six truck-mounted launchers that can fire up to 48 interceptor missiles. The battery also incorporates fire control and communication equipment, and a powerful X-band radar officially known as AN/TPY-2.
US SUCCESSFULLY TESTS THAAD MISSILE SYSTEM AMID NORTH KOREA TENSIONS
How does it work?
The system "uses hit-to-kill technology to destroy a threat with direct impact" in order "to neutralize lethal threats before they reach protected assets on the ground," according to military contractor Lockheed Martin.
Threats are detected through radar, with interceptors fired from a truck-mounted launcher, Lockheed Martin says.
What should I know about the THAAD battery in South Korea?
The system's deployment, which was announced in July 2016, has infuriated both North Korea and China, which consider its powerful radar a security threat. Many supporters of South Korean president Moon Jae-in, who took office in May, don't want the system.
What should I know about the recent THAAD system test?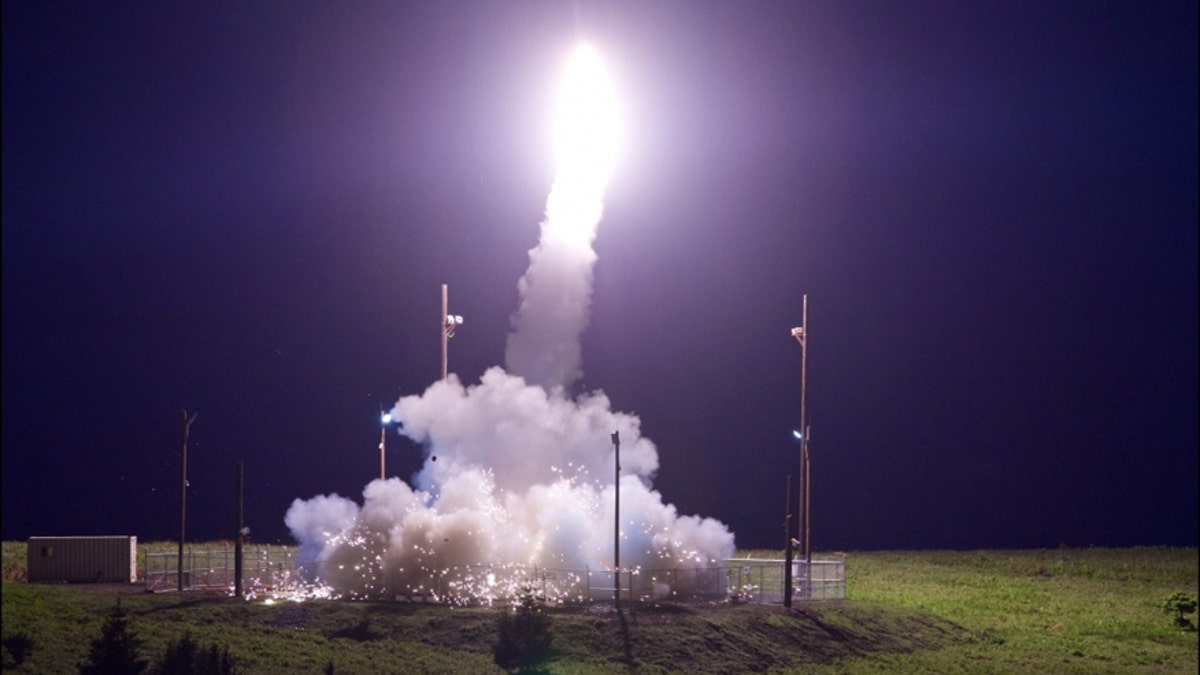 An intermediate-range ballistic missile target (IRBM) was intercepted on Tuesday in Kodiak, Alaska, after it had been launched north of Hawaii, according to the Missile Defense Agency (MDA). The test was the "14th successful intercept in 14 attempts," the agency said.
MDA said that the recent test "bolsters the country's defensive capability against developing missile threats in North Korea and other countries around the globe."
The Associated Press contributed to this report.