Texas National Guard Troops Begin To Take Up Posts Along U.S.-Mexico Border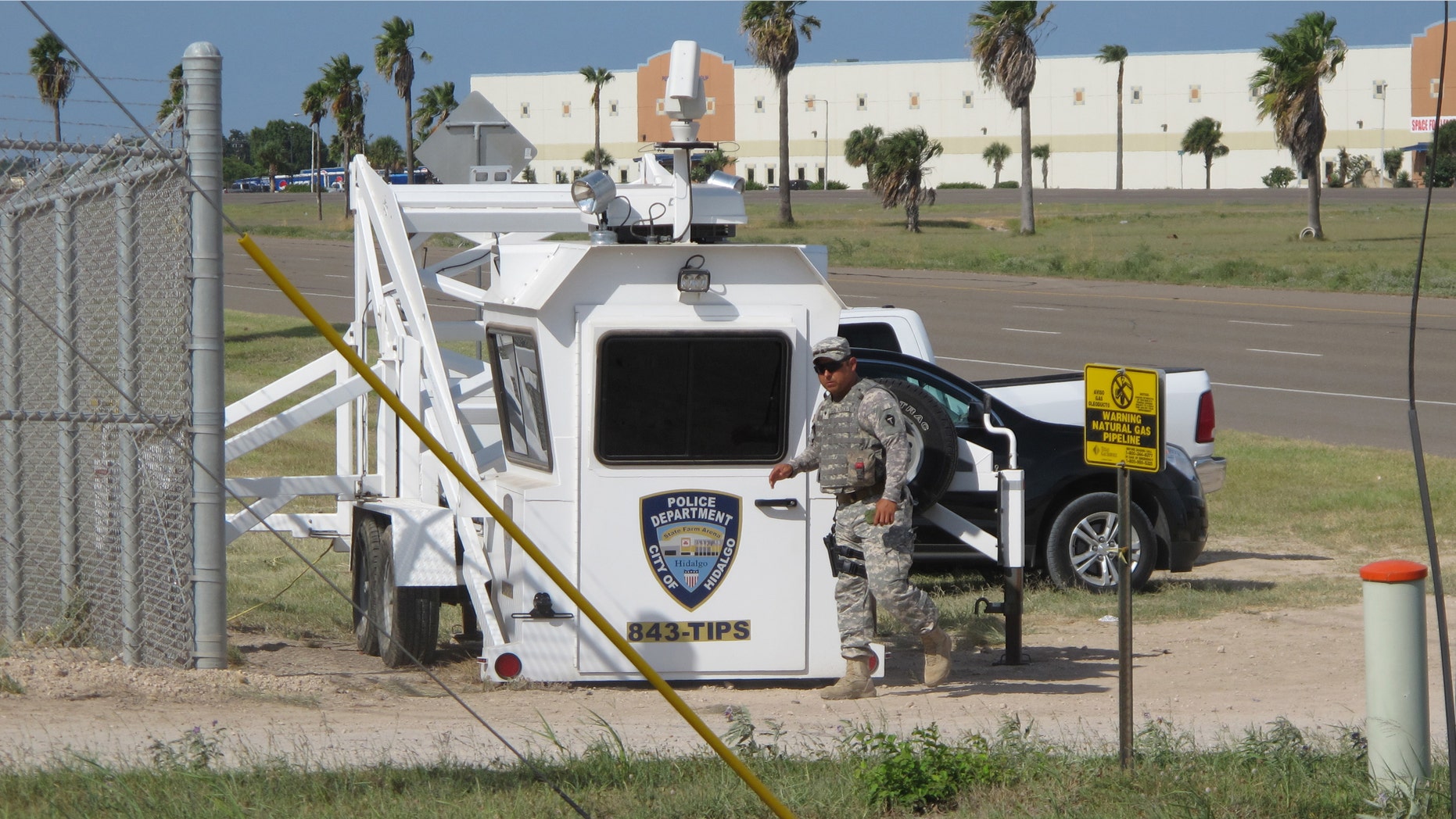 The National Guard  forces that Texas Governor Rick Perry ordered to the border last month have begun to arrive.
Several guardsmen were seen Thursday afternoon manning an observation tower along the busy road leading to the Hidalgo International Bridge. A few dozen soldiers are currently deployed in the Rio Grande Valley, the first part of the up to 1,000 troops called up by Gov. Perry, Texas National Guard Master Sgt. Ken Walker of the Joint Counterdrug Task Force said Thursday.
Addressing uniformed Guardsmen on Wednesday, Gov. Perry said the force would protect the entire country from "narco-terrorists."
"You now are the tip of the spear protecting Americans from these cartels," Perry told hundreds of troops in camouflage. "As they are able to get past you they could be headed to any city, any neighborhood in this country, spreading their tentacles of crime, of fear."
This first batch of soldiers was specifically trained to man such observation towers in the area belonging to local law enforcement agencies and U.S. Customs and Border Protection, Walker said. They will serve as extra eyes on the border and report suspicious activity to authorities.
State officials have estimated the deployment, which they've called a "deter and refer" mission will cost $12 million per month.
On Wednesday, during a visit to Camp Swift Army National Guard Training Center outside Austin, Perry said the troops were needed to defend the nation against "narco-terrorists." Perry, a Republican possibly mulling a run for the White House, had said the soldiers were necessary to help secure the border while the Border Patrol was busy with a surge in illegal immigration.
From October to July, 63,000 unaccompanied children were arrested after entering the U.S. illegally, double the number from the same period a year earlier. Another 63,000 families — mothers or fathers with young children — were arrested during that period.
Those arrests have slowed, however. Arrests of children traveling alone and children and parents traveling together dropped by about half in July from the previous month.
A Customs and Border Protection document viewed by The Associated Press indicated that guardsmen would be manning CBP towers in Hidalgo and Starr counties, as well as towers for the Hidalgo and Pharr police departments and the Hidalgo County Sheriff's Office.
"They're just there for support," Walker said of the soldiers who entered the field this week after training in the area. "We're just trying to give some relief to the guys at Customs and Border Protection" and other law enforcement agencies. He said the duration of their deployment was not set, but that current funding only runs through September.
The guardsmen seen Thursday dressed in camouflage uniforms were manning a Hidalgo police tower.
Hidalgo Police Chief Rodolfo Espinoza said he would normally not have his department's two towers manned. They have cameras that can pan the area and record activity, but having a person that can recognize something suspicious and report it is more valuable, he said.
"It is good to have them," Espinoza said of the soldiers. "It is a positive benefit for everybody."
Still, speaking like a police chief whose office sits less than a mile from the Rio Grande, Espinoza said, "I think the only way you could secure the river is if every 10 yards you had someone standing there. It's impossible."
Based on reporting by the Associated Press.
Follow us on twitter.com/foxnewslatino
Like us at facebook.com/foxnewslatino