Taliban Use Child Bomber at Start of Offensive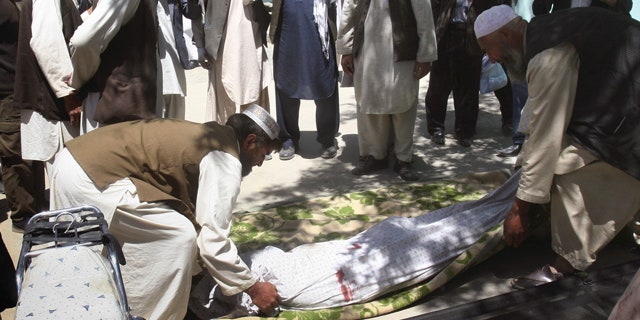 KABUL, Afghanistan -- On the first day of its promised spring offensive, the Taliban used a 12-year-old boy as a suicide bomber in an attack Sunday that killed four civilians, President Hamid Karzai said, calling the child's recruitment inhumane and un-Islamic.
It was one of several attacks across the country that killed seven people, government officials said.
The insurgent movement announced in a statement Saturday that it would step up operations against military bases, convoys and Afghan officials, including members of the peace council working to reconcile with top insurgent leaders. The offensive begins each year after a winter lull in fighting.
"The use of children and youths who don't know the difference between right and wrong in terrorist attacks is inhumane and against all Islamic principles," the president said.
The suicide bomber detonated a vest packed with explosives inside a bazaar in the Barmal district of Paktika province, 160 miles (260 kilometers) southeast of Kabul, on the border with Pakistan. The blast killed four civilians and wounded 12, said Mokhlis Afghan, a spokesman for the provincial governor's office.
Among the dead -- and the likely target of the attack -- was Sher Nawaz, head of a new district council in the Shakeen area of Paktika province, Afghan said.
In the Taliban's announcement on its offensive, it suggested it would try to limit civilian casualties in its operations.
"Strict attention must be paid to the protection and safety of civilians during spring operations by working out a meticulous military plan," it said.
A United Nations report released earlier this year presented evidence that the Taliban was responsible for the majority of civilian deaths in Afghanistan in 2010, and Afghan and NATO officials have repeatedly accused the Taliban of breaking its own rules of engagement.
According to documents from the Joint Intelligence Group at the U.S. military prison at Guantanamo Bay, Cuba, the Taliban systematically recruits and trains juveniles to be suicide bombers.
The documents, recently released under a Freedom of Information Act request, include statements from detainees and suggest that child recruitment is organized and extensive among Islamic militant groups.
U.S. military intelligence officers said juveniles are often recruited at mosques and Islamic schools and that they are in turn encouraged to recruit their friends. Some are lured by extremist literature or videos. The documents suggest that extremists find youths easier to recruit than adults and that they become more pliant disciples of militant Islam.
"Taliban used hard-line interpretation of the Quran as a recruitment tool," according to the confidential documents.
The reports say that juveniles are used to perform a variety of tasks including delivering messages, conducting surveillance and fighting on the battlefield.
"Juveniles are more willing to martyr themselves due to their lack of reasoning on taking innocent lives," the documents say.
A March 2010 article in the CTC Sentinel, published by an independent think-tank called the Combating Terrorism Center at the U.S. Military Academy at West Point, described how juveniles routinely attended militant training camps in Waziristan, along the border of Afghanistan and Pakistan near the site of Sunday's suicide attack.
"The age of suicide bombers range from seven to 40," according to the article, which drew heavily from Pakistani police interrogations and interviews with suspected militants. "Large suicide training camps operate in two categories: junior and senior camps."
In other violence Sunday, a gunman opened fire on a checkpoint in the southwest province of Ghazni, killing two policemen and wounding a bystander during an hour-long battle, provincial police chief Zerawar Zahid said.
In a separate attack in Ghazni, militants detonated a bicycle rigged with explosives outside the provincial police headquarters complex, wounding 13 civilians, according to provincial officials.The wounded included an 11-year-old girl and two young boys. They had light shrapnel wounds, said Dr. Mohammad Ismail Ibrahimzai, head of the Ghazni Provincial Hospital.
In the country's south, a suspected militant shot and killed an Afghan soldier at a checkpoint in Kandahar city, said deputy police chief Shershah Yousafzai.
In other violence in Kandahar, policemen receiving NATO-donated supplies including caps and protective eyewear drew guns and fought over the items, leaving one policeman dead and four wounded, said Arghandab district governor Shah Mohammad.