Taiwan braces for strong typhoon, torrential rain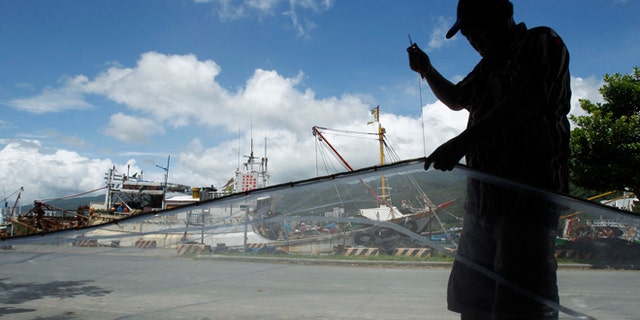 NEWYou can now listen to Fox News articles!
TAIPEI, Taiwan – More than 3,000 people evacuated mountainous, landslide-prone areas of Taiwan as a powerful typhoon neared the island Thursday.
By late evening, the Central Weather Bureau said Typhoon Tembin was packing winds of 96 miles per hour off southeastern Taiwan. It said the slow-moving storm would probably make landfall around noon Friday and predicted up to 39 inches of rain in eastern areas of the island.
Mindful of a devastating typhoon three years ago that took 700 lives, Taiwan's military says thousands of soldiers equipped with rubber boats and amphibious vehicles are ready to help with relief efforts in areas impacted by Tembin's fury.
Authorities ordered workers home in the eastern city of Hualien, where all flights were cancelled. Schools were closed in several areas in the southeast.
Farmers were urgently harvesting crops ahead of the storm's arrival, and many homes and businesses in eastern Taiwan boarded up their windows. Outdoor events to mark a special Taiwanese Valentine's Day on Thursday were canceled.
Another typhoon may threaten southern Japan over the weekend. Typhoon Bolaven has winds of 89 miles an hour and may intensify, the Japan Meteorological Agency said. The current forecast has the typhoon affecting southern islands including Okinawa on Sunday.