Syrian rebel leader calls for 'Marshall Plan'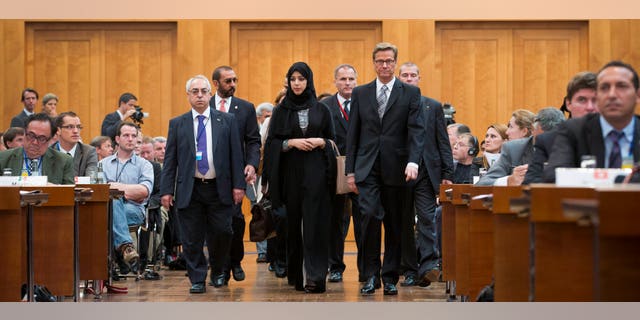 A Syrian opposition leader called Tuesday for a massive aid program to help rebuild his country after President Bashar Assad's regime falls, warning that a lack of economic development could open the door to extremism.
A top German official representing donor nations, meanwhile, said Syria's opposition factions must overcome their current divisions.
Abdelbaset Sieda, the head of the Syrian National Council, told a meeting of Syrian opposition representatives and diplomats that Syria would need a program similar to the Marshall Plan, the post-World War II European reconstruction effort, if the Assad regime collapses.
He said Assad's regime has devastated public finances and institutions to such an extent that Syria won't be able to rely immediately -- or solely -- on oil revenues and taxes in any rebuilding effort.
"In the aftermath of the destruction ... we are convinced Syria needs a Marshall-style plan to ensure it stands again on solid financial and economic ground," Sieda said in Berlin. "Without real comprehensive development, we will open up the opportunity for the growth of all kinds of extremism."
The gathering on economic rebuilding, which Germany chairs jointly with the United Arab Emirates, aimed to address how to prevent basic services and infrastructure from collapsing and how to revive the economy in a post-Assad Syria.
Without identifying any countries by name, Sieda also warned that any nation now helping the Assad regime could not expect to get its money back under a new government.
"The Syrian people are not bound by any contract signed by the regime after the beginning of this revolution, or any sale of treasury bonds or purchase of weapons or contracts with any country," he said.
Russia, in particular, has been criticized for blocking U.N. sanctions against Syria and continuing to supply it with military material throughout the conflict. Assad regime officials have also asked Russia for loans to replenish Syria's hard currency reserves, which have been depleted by international embargoes on Syrian exports.
Unlike neighboring Iraq, where reconstruction after the 2003 U.S.-led invasion was hampered by an ongoing insurgency, Syria lacks vast oil reserves that could kick-start the economy and help finance the reconstruction of damaged infrastructure.
The meeting's host, German Foreign Minister Guido Westerwelle, said economic recovery and a successful political transition must go hand in hand, and called on the international community to be ready to provide economic support.
"There can be no doubt, the days of the regime are numbered: it has lost all legitimacy to represent the Syrian people, it is crumbling from inside," Westerwelle said. "On the international level it is increasingly isolated; the overwhelming majority of countries reject the massive violation of human rights; there is no future for Bashar Assad in a new Syria."
But he stressed the importance of overcoming another problem: the divisions within Syria's opposition.
"The people in Syria must see that there is a credible alternative to the regime of Bashar Assad," he said, urging the opposition "to create as fast as possible the conditions for ... a transition government."
Asked if he would go as far as French President Francois Hollande's call for the Syrian opposition to form a provisional government now, Westerwelle indicated more work was still necessary before that could happen.
"I will have a discussion tomorrow with my French colleague ... but it's obvious that at the moment it's necessary to unify the opposition," he said.
Bassma Kodmani, who resigned last week from the Syrian National Council saying there was too much infighting among opposition groups, said in addition to economic reconstruction, the international community needs to start thinking of how to fill the security vacuum that would be left.
"Starting today, we need to plan the re-creation of the security system in Syria -- we might need peacekeeping forces that are mandated by the Security Council," said Kodmani, who attended as a representative of the Syrian Business Forum.
She said even though Russia and China have continued to veto U.N. Security Council proposals for action against Syria, she hoped they might be persuaded to accept post-Assad measures.
Violence in Syria has been escalating in recent weeks. The Syrian Observatory for Human Rights has raised its total death toll to between 23,000 and 26,000 people since the uprising began in March 2011.
Activists say some 5,000 people were killed in August, the highest toll in the 17-month-old uprising and more than three times the monthly average. The U.N. children's agency says 1,600 people were killed last week alone.
On Tuesday, the U.N. refugee agency said 100,000 refugees fled Syria in August, the highest monthly total since the uprising began.
The rise in people seeking asylum in neighboring countries brings the total of Syrian refugees registered or awaiting registration to over 234,360, spokeswoman Melissa Fleming said in Geneva.