Suu Kyi meets Dalai Lama, risking China's ire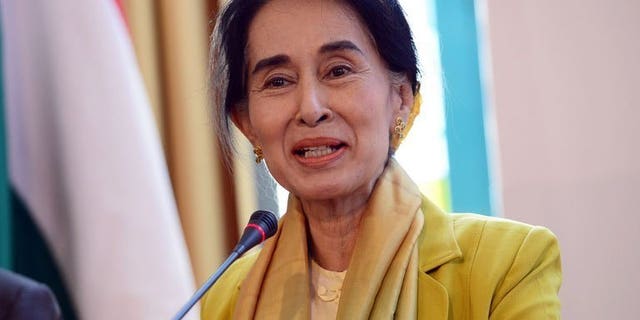 PRAGUE (AFP) – Myanmar opposition leader Aung San Suu Kyi has risked prompting Chinese anger after it was confirmed she had a private meeting with the Dalai Lama on the sidelines of a Prague rights conference, its spokesman said Monday.
Beijing has for decades opposed foreign dignitaries meeting Tibet's exiled spiritual leader, who fled his homeland for India in 1959 after a failed uprising against Chinese rule.
"They met on Sunday at the Dalai Lama's lecture," Filip Sebek, spokesman for the Forum 2000 foundation that organises the conference, told AFP, specifying that the two Nobel Peace laureates met in private.
Beijing, a powerful Myanmar ally and major investor in the resource-rich nation, has branded the Dalai Lama an anti-China "separatist" who encourages violence.
But the 78-year-old Buddhist leader insists he is peacefully seeking rights and autonomy for Tibetans. He signalled Friday in Vilnius that he thought China was being "more realistic" about Tibet after decades of hardline policy.
Suu Kyi and the Dalai Lama, who met previously in London last year, both spoke at this year's three-day forum, which began Sunday.
Each paid homage to the late Vaclav Havel, a hero of the 1989 Velvet Revolution that toppled totalitarian Communist rule in the former Czechoslovakia.
Himself an ardent advocate for human rights during the communist era, Havel spearheaded the conference in 1997.
Suu Kyi, who never met Havel in person, recalled the former dissident playwright-turned-president -- who had spent five years in Communist prisons -- as a man who gave her hope while she was held.
"When I was under house arrest for many years in Burma, I knew that somewhere in the world there was a man who was speaking out for me and because of whom my freedom remained intact in spite of physical detention," she said Sunday.
The 68-year-old herself spent 15 years under house arrest under military rule in Myanmar, before she was freed after controversial elections in 2010.
The Dalai Lama, one of the last people to speak to Havel before his death in 2011, said Monday that during his current visit to Prague, he "had an opportunity to visit his small office, quite untidy."
"I put my head on his chair and (it) reflected his spirit. Perhaps from his chair I may carry some of his blessing out here," he said, adding that it was "our responsibility to carry his wish, his dream, his vision, and his spirit".