Suspect in British soldier murder kisses Koran in first court appearance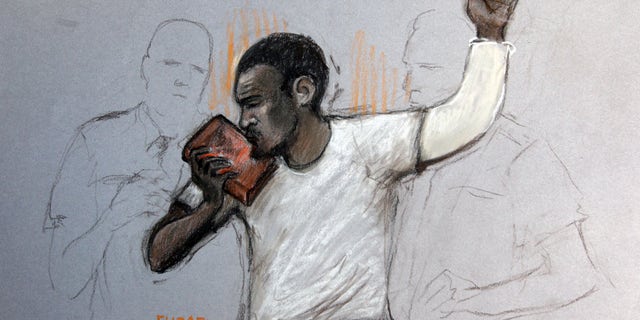 LONDON – One of two main suspects in the killing of a British soldier in London made his first appearance in court Monday, kissing a copy of the Koran and raising his injured arm in the air.
Michael Adebolajo, 28, who was shot by police before he was arrested on the scene of the May 22 killing, appeared at Westminster Magistrates' Court with his left arm heavily bandaged.
Adebolajo -- who asked to be known in court as Mujahid Abu Hamza -- faces charges of murder, attempted murder of two police officers and firearms possession.
His suspected accomplice, Michael Adebowale, 22, made a separate appearance at another London court via video-link later Monday.
Adebowale is also accused of killing Lee Rigby, as well as possession of a gun.
Both men were shot by police and placed under armed guard in a hospital after the attack on Rigby, an off-duty soldier who was run over by a car and then stabbed repeatedly while walking back to his military barracks in southeast London.
Wearing a white T-shirt and white trousers in court Monday, Adebolajo blew a kiss to a man in the public gallery, and both men then pointed to the sky.
When asked to stand, Adebolajo did so, but asked "May I ask why?" and said he wanted to sit down.
He was kept in custody to appear at court again within two days for a bail hearing.
Police have arrested and questioned several others in connection with the slaying, and British Prime Minister David Cameron praised police efforts Monday as he stressed the importance of learning lessons from the attack.
He told lawmakers that Parliament's intelligence and security committee would report by the end of the year on whether more could have been done to prevent the killing.
"When young men born and bred in this country are radicalized and turned into killers, we have to ask some tough questions about what is happening in our country," Cameron said. "It is as if that for some young people there is a conveyor belt to radicalization that has poisoned their minds with sick and perverted ideas. We need to dismantle this process at every stage."
Cameron said that a new government task force to address radicalization had met for the first time.
The task force will concentrate on whether rules for charities are too lax and allow extremists to prosper, the issue of extremist groups at universities and help for mosques that want to expel extremists.