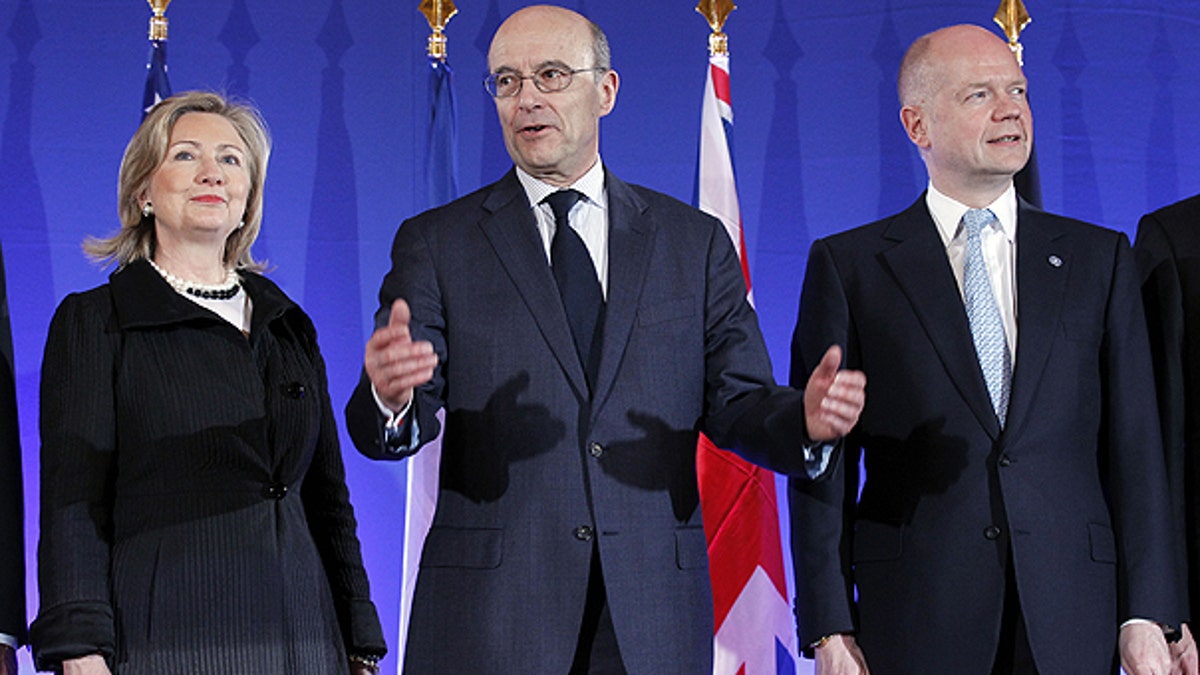 UNITED NATIONS – Supporters of a no-fly zone over Libya introduced a U.N. resolution Tuesday aimed at stopping Moammar Gadhafi's planes from bombing civilians, with France urging quick action but Russia and Germany expressing misgivings.
Divisions over a no-fly zone that emerged among top diplomats from the Group of Eight leading economies meeting in Paris earlier Tuesday were already spilling into negotiations in the 15-member U.N. Security Council, which includes many G-8 members.
Britain's U.N. Ambassador Mark Lyall Grant said council members will discuss the proposed resolution "paragraph by paragraph" when they meet again Wednesday morning. Members had "a number of questions about the text, and everyone agreed they would send it back to capitals overnight," he said.
Chinese Ambassador Li Baodong said issues to be clarified include whether the ban would apply to all flights countrywide. Indian Ambassador Hardeep Singh Puri said he and other members need to know what countries would contribute the assets for enforcing a no-fly zone.
Lebanon, the Security Council's only Arab member, introduced the no-fly provisions of the draft resolution — strongly endorsed by the Arab League — to council members at a closed meeting Tuesday afternoon. The Arabs are strongly backed by France and Britain, which drafted elements of a no-fly resolution last week.
"We are deeply distressed by the fact that things are worsening on the ground, that the Gadhafi forces are moving forward extremely quickly, and that this council has not yet reacted," France's U.N. Ambassador Gerard Araud told reporters as he headed into the council meeting. "In the coming days we want a resolution ... and we will do our utmost to get it."
France and Britain failed to win support for a no-fly zone during the two-day meeting of G-8 foreign ministers and the group's final communique did not mention a flight ban. It instead warned of unspecified "dire consequences" if Gadhafi did not honor the Libyan people's claim to basic rights, freedom of expression, and representative government.
The halting efforts to raise pressure against Gadhafi's 42-year regime came as his forces used tanks, warships and artillery Tuesday to gain ground near the rebels' base in eastern Libya.
The G-8 ministers agreed the Security Council needs to take more action to pressure Gadhafi to leave, possibly with new sanctions, but not military action.
In New York, Lebanon's U.N. Ambassador Nawaf Salam said the section on the no-fly zone was drafted in consultation with Libya's U.N. Mission, which backs anti-Gadhafi forces. Salam said another section on "the strengthening and widening of sanctions" on Libya was introduced by Lyall Grant.
The Arab League called Saturday on the U.N. "to shoulder its responsibility ... to impose a no-fly zone over the movement of Libyan military planes and to create safe zones in the places vulnerable to airstrikes."
Salam said Lebanon has asked Libya's U.N. Mission to identify specific areas where civilians would need protection and safe passage corridors.
The Security Council on Feb. 26 imposed an arms embargo on Libya and ordered all countries to freeze assets and ban travel for Gadhafi and some close associates. It also referred the regime's deadly crackdown on protesters to the International Criminal Court, for an investigation of possible crimes against humanity.
U.N. diplomats said the proposed new resolution would call for more muscular enforcement of the arms embargo, add names of individuals, companies and other entities to the list of those subject to travel bans and asset freezes, and ban commercial flights bringing arms or mercenaries into Libya.
The draft resolution would also authorize states to work together to provide humanitarian assistance and take necessary measures to protect civilians. It also would establish a panel of experts to monitor implementation, the diplomats said, speaking on condition of anonymity because the text has not been released.
Russia's Foreign Minister Sergey Lavrov said at the G-8 that his country wants more details and clarity from the Arab League about its proposals for Libya before approving any military intervention.
Amr Moussa, the Arab League's secretary-general, at the Paris meeting that a no-fly zone would be humanitarian measure to protect Libyan civilians and foreigners in the country — not a military intervention.
But German Foreign Minister Guido Westerwelle said his country was "very skeptical" about military action. "We do not want to get sucked into a war in North Africa," he said. "We want to avoid any slippery slope in this direction."
Lebanon's Salam insisted that a no-fly zone "in no way could qualify as a foreign intervention."
"I would hope that the establishment of a no-fly zone would have a deterrent effect on the Gadhafi regime, not to fly its airplanes to attack civilian areas," he said.
U.S. Secretary of State Hillary Clinton, who on Monday met with her counterparts and Sarkozy, traveled to Egypt for talks Tuesday and did not attend the G-8 meeting.
The White House said President Barack Obama on Tuesday instructed his national security team to "fully engage" in discussions at the United Nations, NATO and with countries and organizations in the region when reviewing options to increase pressure on Gadhafi.
Obama and his top national security aides have been cautious with calls for a no-fly zone, which the Pentagon has described as a step tantamount to war. The U.S. fears it could further strain its already stretched military and entangle the country in an expensive and messy conflict.
___
Associated Press Writers Edith M. Lederer at the United Nations, Jamey Keaton in Paris, Alessandra Rizzo in Rome, Cassandra Vinograd in London, and Brad Klapper in Washington contributed to this report.