Super typhoon heads for Christmas Day blow to Philippines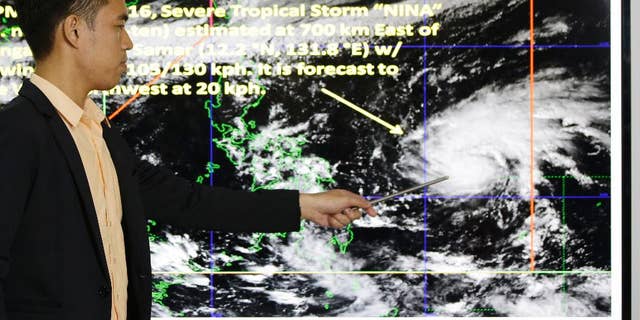 MANILA, Philippines – A powerful typhoon was heading for a Christmas Day collision with the central Philippines.
Nock-Ten has intensified into a super typhoon with maximum sustained winds of 175 kilometers (108 miles) per hour and gusts of up to 215 kph (133 mph) and it heads for landfall over Cataduanes Island in the central Bicol region. It's then forecast to drag across the southern portion of the main Luzon island as it passes close to the capital, Manila, and begins to weaken.
Heavy rainfall, damaging winds and battering waves are threatening heavily populated areas, where the Philippine weather bureau raised storm signals and warned that sea travel is risky along the eastern seaboard.
The typhoon strength is equivalent to a Category 2 hurricane in the Atlantic.
On Sunday morning, the typhoon was less than 200 kilometers (125 miles) east of Cataduanes. It's expected to slam ashore around 7 p.m. (1200 GMT).
About 20 typhoons and storms each year lash the Philippines from the Pacific Ocean. In November 2013, Typhoon Haiyan struck the central Philippines with ferocious power, leaving more than 7,300 people dead and displacing more than 5 million others after leveling entire villages.