State Dept. talks 'new era' in Zimbabwe following Mugabe resignation
U.S. State Department spokeswoman Heather Nauert called Tuesday's resignation of now-former Zimbabwe President Robert Mugabe "a historic opportunity" for the country's people but she would not say whether the military takeover was considered a coup.
"The people of Zimbabwe have firmly voiced their desire for a new era to bring an end to Zimbabwe's isolation and allow the country to rejoin the international community," Nauert said in the briefing.
The comments follow Mugabe's official resignation as leader of the country, a position he held for 37 years. The country's Parliament speaker said he received a letter from the 93-year-old leader soon after lawmakers launched impeachment proceedings against him. In the letter, Mugabe said his resignation was voluntary.
ZIMBABWE'S MUGABE RESIGNS ENDING DECADES-LONG DICTATORSHIP
Nauert echoed similar sentiments from Sec. of State Rex Tillerson's statement on Zimbabwe, telling reporters that the State Department hoped for "free and fair elections" and that whatever choice was made regarding governing the country in the short term, they hoped for an "unwavering respect for the rule of law and for established democratic practices."
But when asked whether the military's governmental takeover that subsequently led to Mugabe and his wife, Grace, being forced into house arrest was a coup, Nauert noted that the ousted leader made the ultimate decision to resign.
Cries of happiness and commendation have poured in from all sides following the change of power.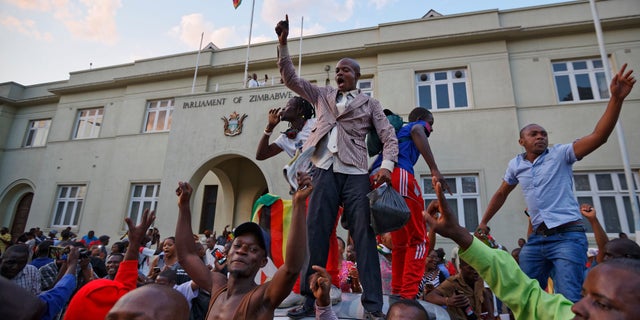 Immediately following Mugabe's announcement, citizens started taking down all of the official portraits hanging of their former president.
"This is the first time that Robert Mugabe has made Zimbabweans universally happy since independence," former Zimbabwe government minister David Coltart said on Twitter.
MUGABE RESIGNS AS ZIMBABWE PRESIDENT: WHO ARE THE KEY PLAYERS IN THE LEADERSHIP CRISIS?
But he also voiced concern as former Vice President Emmerson Mnangagwa is expected to be sworn in within the next day.
"We have removed a tyrant but not yet a tyranny," Coltart said in a tweet. "But we thank God for this day."
Chairman of the African Union Commission Moussa Faki Mahamat also chimed in saying the people of Zimbabwe had "expressed their will" and Mugabe would go down "as a fearless pan-Africanist liberation fighter and father of the independent Zimbabwean nation."
"Today's decision will go down in history as an act of statesmanship that can only bolster President Mugabe's political legacy," Mahamat said.
The Associated Press contributed to this report.