Spike In Stolen Artifacts In Latin America Spurs Concerns Over Rising Black Market Trade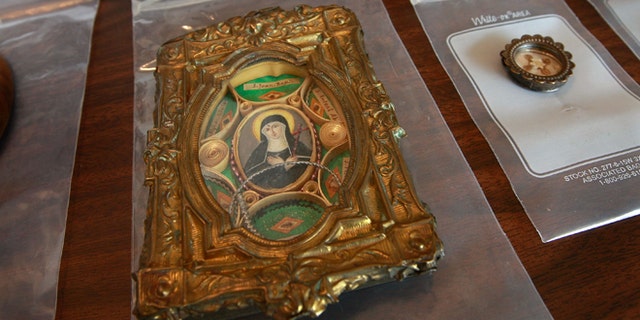 NEWYou can now listen to Fox News articles!
Ecuadorean authorities have reported a recent uptick in thefts of historical artifacts from museums, churches and private collection, causing worry in the Andean nation and abroad about a possible surge in the lucrative antiquities trafficking market in Latin America.
In the first four months of 2014 there have been 17 reports of stolen artifacts in Ecuador – compared with just two thefts in 2012 and none in 2013 – with the stolen good garnering anywhere between $4,000 and $8,000 a piece on the black market, Ecuador's National Institute of Cultural Patrimony (INPC) reported.
Ecuador's rise comes as Mexico, Peru, Guatemala and Colombia are also seeing an increase in the number of archeological relics being pilfered.
While the theft and trafficking of cultural artifacts has been happening for centuries – from Egyptian grave robbers to raids of Syrian museums during its ongoing civil war - the current rise in Ecuador and other countries worries authorities as Latin America has been a region that many watchdog groups have made concerted efforts to guard.
"Latin America, along with the Middle East, is a major region for archaeological digs and also for this type of trafficking," Roni Amelan, a spokesperson for the UNESCO, told Fox News Latino.
The United Nations adopted the Convention on the Means of Prohibiting and Preventing the Illicit Import, Export and Transfer of Ownership of Cultural Property in 1970 as a measure to get nations to crackdown on the illegal trade in artifacts. While this measure has been in place for over 40 years, much like U.N. conventions on drugs and sex trafficking, it is much easier for a nation to say it will combat the trade than actually successfully carry it out.
From single person treasure hunters to large-scale operations, archaeological digs around the globe have been ransacked in scenes out of Indian Jones and everyone from auction houses, to buyers to local governments have been duped into purchasing the stolen goods.
"A lot of these real artifacts have ended up in museums and auction houses in Europe and the U.S.," said Adam Isacson, a senior associate at the Washington Office on Latin America. "There is a real black market out there for these items."
The illegal trade of historic objects is almost as profitable as arms trafficking and drugs, according to the report "Culture and Development: No To Illicit Trafficking of Cultural Property" released last year by the United Nations Educational, Scientific and Cultural Organization. Today the figure hauled in by traffickers is around $ 6 billion annually, with the U.S. , Switzerland , Italy, France, Germany, Spain, England, Japan and Saudi Arabia being the major markets for South American antiquities.
Along with UNESCO and the international police organization Interpol, the United States Immigration and Customs Enforcement has also joined in the fight as many of the stolen artifacts from South America end up in U.S. auction houses and private collections.
"The networks are very organized," Thomas Mulhall, a special agent with the Department of Homeland Security said at a press conference last year. "There is an understanding that the item is relatively easily obtained. It's difficult to excavate and to uncover, but you'll see networks that will piggyback or follow an academic excavation that's going on….And they'll trade them through a network, knowing that the United States is the strongest market, one of the strongest markets."
Ecuador has had some success in recovering some of the stolen artifacts – since 2008 the INPC has repatriated 681 stolen historical artifacts such as the painting titled "Los negros de Esmeraldas" and a sculpture titled "Apostol" taken from Quito's Hispanic Cultural Institute. But UNESCO said that given the relative poverty in the country and the ease in which people can enter some archaeological sites, the trade looks likely to continue.
"They are poor people with a great knowledge of the geography where the deposits are located," UNESCO said, "and for a little money will deliver the extracted objects."