Spain sets up hotline to report jihadist activity; nets 29 suspects in first 24 hours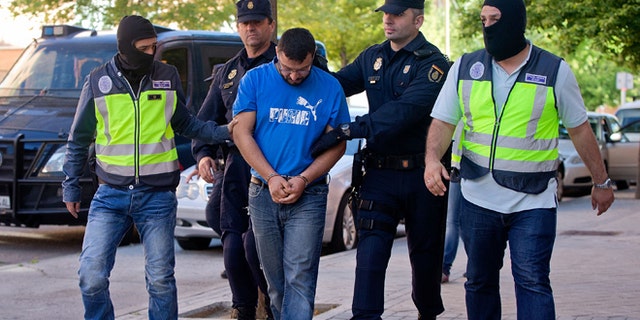 Spain's intelligence agency is investigating 29 reports of people allegedly involved in jihadist activity, only 24 hours after the country launched a hotline in which callers can anonymously report individuals suspected of terrorism.
An official in the Iberian country said that the 29 reports out of the "multitude" received were singled out for analysis after being deemed "especially sensitive."
Coming only weeks after the deadly Paris terrorist attacks that left more than 130 people dead, Spain's hotline is meant to curb the spread of extremist beliefs like those preached by the Islamic State.
The campaign, entitled Stop Radicalism, hopes to "involve the whole of society in the fight against brutality," Spanish Interior Minister Jorge Fernández Díaz told the Local.
Spain, which sits at the southern tip of Europe and is a frequent destination for people traveling from countries like Morocco and Algeria, has arrested numerous suspected jihadists recently. This year alone 100 suspected jihadists have been arrested in Spain by anti-terrorist agents.
On Tuesday, Spanish official announced the arrest of two people in Catalonia and the Canary Islands on suspicion of forming an Islamic State group cell and of recruiting and indoctrinating Islamic militants.
While unclear if the arrests are connected to the hotline, Fernández Diaz said the two, a man and a woman both of Moroccan nationality, worked within "a highly professional" network aimed at conveying "an idealized image of their struggle" in order to recruit impressionable young Spaniards and train them in the use of arms and explosives.
Fernández Diaz said the suspects were "in constant contact with the Islamic State hierarchy in Syria" and both had made a public oath of loyalty to IS and its leader, Abu Bakr al-Baghdadi.
The minister also said the suspects had made "specific threats" against Spain and France but declined to give details.
A ministry statement said evidence seized during Tuesday's raids corroborated theories that "a new strategy is being deployed by ISIS" in a bid to make remote recruitment and training easier.
The detainees allegedly disseminated multimedia material that gave detailed information on the handling of explosives and rifles, to make it easier for activists to commit attacks in their home countries.
The identities of the couple detained on Tuesday were not revealed except to say that the woman was 19 and arrested in Fuerteventura, and the man was 33.
The Associated Press contributed to this report.