Spain Election Favorite Asks Markets for Respite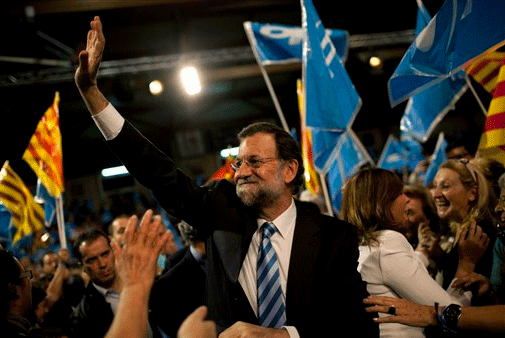 Madrid – The Spanish conservative expected to become the country's next prime minister after Sunday's election says he hopes financial markets will give Spain's next leader a respite.
A near two-year recession has left the country with a euro-zone high 21.5 percent unemployment rate and a swollen deficit, and Spain's key borrowing rate remained above 6 percent for a fifth day running on Friday, up roughly 1 percent from last week. A 7 percent rate is considered unsustainable over the long term.
"We hope this (pressure) stops and that people realize there's an election here and that the party that wins has the right to a minimum margin," Mariano Rajoy told Onda Cero radio.
Socialist Finance Minister Elena Salgado said the increased interest rates were more to do with market tension than Spain's economy, which she insisted was beginning to show the fruits of reforms.
She said the effects of the increases would be marginal.
"Spain has no problems seeking finance on the market," she said.
But Salgado urged the European Central bank to remain active in buying bonds on the secondary market to helped targeted countries and said the European Union must step up efforts to reduce the current tension.
Salgado again ruled out any chance of Spain seeking an international financial rescue package as Greece, Ireland and Portugal have had to do.
Widespread discontent with the Socialist government's handling of the stricken economy is expected to hand Rajoy's party a strong victory.
Salgado said that although the government this week slashed its economy growth forecast for the year from 1.3 percent to 0.8 percent it was still confident of reducing the budget deficit to 6 percent of GDP, down from 9.2 percent last year.
Political parties were to finish campaigning midnight Friday, giving voters the traditional day to reflect before voting.
Rajoy has promised to get Spain's economy working again to reduce the 5 million jobless number but has been vague on details. He acknowledges there will be cutbacks but recognizes he has no magic wand.
His Socialist opponent Alfredo Rubalcaba, former interior minister, claims Rajoy plans to dismantle much of Spain's welfare state and cut back on worker rights to favor businesses. Rubalcaba has all but acknowledged he has lost the election.
Outgoing Prime Minister Jose Luis Rodrigo Zapatero is not running for a third term.
Deputies are to take their seats in parliament Dec. 13 and a new government formed over the following days.