Sotomayor Reflects On Boston: Maybe Sometimes Profiling Can't Be Ignored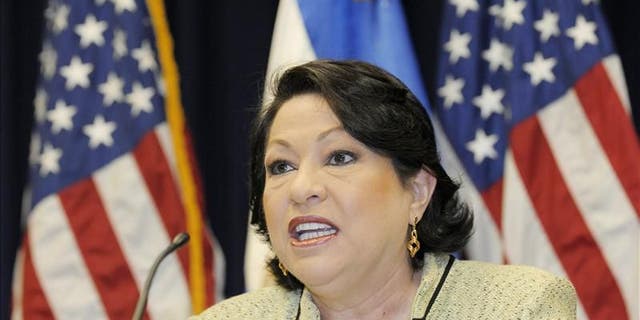 Reflecting on how sensitive the issue of racial profiling can be, Supreme Court Justice Sonia Sotomayor said Thursday that police who rely only on it to decide if someone committed a crime are usually wrong.
But she said investigators need to pay attention to some "indicators" about suspects, without saying what they might be.
"It's a fine line society walks in trying to be fair," she said.
Speaking with young students in Denver, Sotomayor noted that some people asked whether authorities had done enough to track the two suspects of the Boston Marathon bombings, both ethnic Chechens.
"Is that profiling? Could be," she said. "Is it something you just can't ignore? Maybe sometimes not."
Sotomayor, who was in Denver for the dedication of a new state courts building, took questions from about 100 eighth-, ninth- and 10th-graders before ceremonies to open the Ralph L. Carr Colorado Judicial Center.
Shortly after Michael Bender, chief justice of the state Supreme Court, introduced her, Sotomayor stepped off the speaker's platform and roamed the aisles around the students, answering questions eye-to-eye and engaging them in banter.
She frequently referred to her new memoir, "My Beloved World," and urged the children to dream big and explore career possibilities, even if they seem intimidating.
"When I was your age, I didn't know there was a Supreme Court," she said. She said she learned about the legal system by watching "Perry Mason" television dramas.
She promised her young audience that if any of them became a justice, "I'll come and swear you in."
Sotomayor, who became the first Hispanic on the Supreme Court when she took office in 2009, said she was the subject of racial stereotyping after her appointment, and it was hurtful.
Her biggest challenge was dealing with other people's low expectations, she said, "and having fun proving them wrong."
Based on reporting by The Associated Press.
Follow us on twitter.com/foxnewslatino
Like us at facebook.com/foxnewslatino