Senior Libyan policeman wounded by car bomb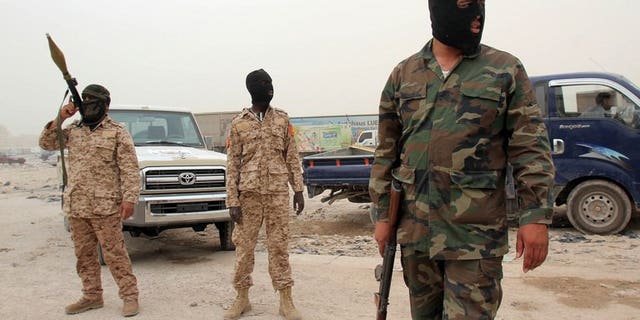 NEWYou can now listen to Fox News articles!
BENGHAZI, Libya (AFP) – A senior police officer was gravely wounded in an overnight bombing in Libya's restive second city of Benghazi, a security official told AFP on Saturday.
"Colonel Faouzi al-Oujli was critically injured when an explosive device placed in his car went off," said the eastern city's security spokesman, Colonel Mohamed al-Hijazi.
He said the officer had been returning to Benghazi from the southern city of Sabha to visit his family when the blast happened.
"The same method was used as in other attacks on members of the security forces -- a home-made bomb planted in the car," Hijazi said.
"These attacks are well-planned and systematic, and show that police and army officers are under surveillance."
On Wednesday, an army colonel was shot dead in the eastern town of Derna, while another was seriously wounded in a second attack in Benghazi.
Since the fall of dictator Moamer Kadhafi in 2011, the east has seen a wave of attacks against members of the military and police and judges who served under the former regime.
Benghazi was the cradle of the 2011 uprising, and attacks there are generally blamed on radical Islamists who have also targeted Western interests.
Last September 11, US ambassador to Libya Chris Stevens and three other Americans were killed in an attack on Washington's consulate in Benghazi.
And on June 5 this year there was an attempt to kill Jean Dufriche, France's honorary consul in the city.
On Friday, five people were wounded when an explosive device detonated outside a police station in the Sidi Hassan district of Benghazi, Hijazi said.