San Diego police officer killed, another hospitalized making routine stop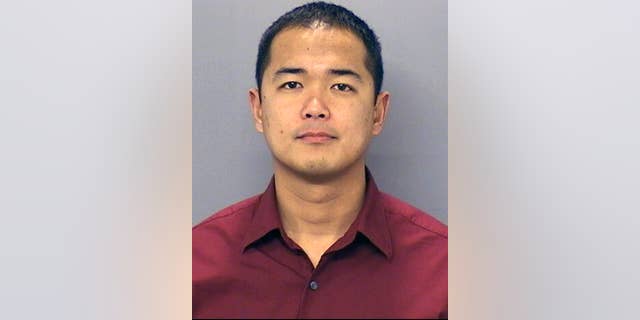 NEWYou can now listen to Fox News articles!
SAN DIEGO (AP) – One San Diego police officer was killed and another wounded in a shootout following a late-night pedestrian stop, authorities said Friday. A suspect was wounded and taken into custody a short time later, and, after a few hours, police surrounded a home as they searched for man described as a possible accomplice.
Police Chief Shelley Zimmerman identified the dead officer as Jonathan DeGuzman, a 16-year veteran of the force who was married with two children. He suffered multiple gunshot wounds.
Zimmerman told San Diego Fox 5 that she worked alongside DeGuzman when she was a lieutenant, and she called his death "gut-wrenching.''
"Last night, he lost his life trying to make a positive difference, trying to protect our community,'' she said. "Our deepest condolences go out to J.D.'s family, and we ask that you keep them in your thoughts and prayers in the days ahead."
Officer Wade Irwin, 32, and a 9-year veteran, underwent surgery after being shot and was expected to survive.
Both officers were wearing bulletproof vests and body cameras and quickly called for assistance from other officers, Zimmerman said.
"It happened extremely quickly, very quickly," she said. "From the information that was put out that a stop was being made to that the officers called for emergency cover to when the other officers arrived on scene, we're talking very, very quickly. Seconds to a minute or so."
It remained unclear whether the two officers were trying to make a vehicle stop, but investigators have no evidence that a vehicle was involved, Zimmerman said.
The male suspect was captured in a nearby ravine and was being treated Friday at a hospital. Police did not identify him, but Zimmerman said he was in critical condition with a gunshot wound.
Residents were ordered to stay in their homes throughout the night as San Diego police and officers from other law enforcement agencies scoured ravines, yards, streets and alleys for other possible suspects. A helicopter hovered over the neighborhood.
About nine hours after the shootout, heavily armed police officers surrounded a house about a half mile away from the ravine. One of the officers used a bullhorn to urge a man to surrender. Authorities also detonated several devices at the scene that made deafening booms.
Zimmerman said a potential second suspect was holed up in the house, and that information she did not identify led officers to the home.
After visiting Officer Irwin later at University of California-San Diego Medical Center, Zimmerman told reporters that the officer's prospects for recovery were good.
"It's a little bit of a long haul until he makes a full recovery, but the good news is that he is going to survive and he is going to recover," she said outside the hospital.
The shooting came as law officers around the country are on high alert following the killing of officers in Dallas and Baton Rouge, Louisiana, earlier this month.
"Violence against the men and women who wear the badge is violence against us all," San Diego Mayor Kevin Faulconer said after the shootings in his city. "I ask all San Diegans and all people across our nation to join together in support of our officers who courageously protect our communities. We need them and they need us."
U.S. Attorney General Loretta Lynch mentioned the San Diego shooting during a meeting Friday with police officers and other first responders in Baton Rouge, where a gunman killed three on-duty law enforcement officers earlier this month.
"I know this community, more than most knows exactly what these families are feeling at this moment," she said.
Based on reporting by the Associated Press.