Rural Danish town of 7,000 to build Western Europe's tallest skyscraper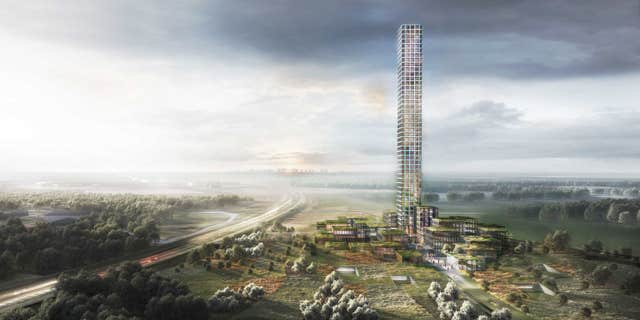 NEWYou can now listen to Fox News articles!
A plan to build Western Europe's tallest skyscraper in a rural Danish town of just 7,000 people has been given a green light by officials who welcome the over-the-top tower.
Bestseller, a European fashion clothing company, has been mulling the idea to build the skyscraper in Brande for years, designing plans for the building with a projected height of about 1,050 feet, beating the current tallest tower – London's Shard tower – by about 34 feet.
WATCH: CHINESE SKYSCRAPER BOASTS 350-FOOT WATERFALL STREAMING DOWN ITS SIDE
"It will undoubtedly be of the greatest significance for the city of Brande, but I do not doubt it will affect the whole of Central Jutland," Ib Lauritsen, the mayor of Ikast-Brande, told Danish broadcaster DR.
The retailer picked the town of Brande because that's where Bestseller was founded back in 1975 before attracting international success, making Anders Holch Povlsen, the owner, the richest man in Denmark.
"It will be a landmark that places Brande on the map."
"It will be a landmark that places Brande on the map," Anders Krogh Vogdrup, head of constructions for Bestseller, said after the town's council approved the project last month, the Guardian reported. "For more than 30 years, we have been very happy to have our home in Brande, and we feel we are a natural part of the local community."
LEANING TOWER OF PHILLY? FOUNDING FATHERS' CHURCH GETS GRANT
The mayor said none of the town officials raised any concerns about the enormous tower, while the public appears to be in favor of the plans.
Still, the support isn't unanimous. Danish satirical newspaper Rokokoposten mocked the plans to build the record-shattering tower, comparing it to the Tower of Sauron from The Lord of the Rings.
"Such a big building will make the world claustrophobically small. Why do I have to be reminded of Bestseller when I'm walking by myself in a quiet wood?"
There's some more serious opposition, too. Trine Kammer, an architect, told the newspaper that the media is ignoring the voices who oppose the project.
CLICK HERE TO GET THE FOX NEWS APP
"People in Brande are so afraid to criticize Bestseller. It's like a religion or something," she said, warning that the tower will destroy the landscape. "Such a big building will make the world claustrophobically small. Why do I have to be reminded of Bestseller when I'm walking by myself in a quiet wood?"