Riot breaks out in Syrian refugee camp in Jordan as winter weather deepens misery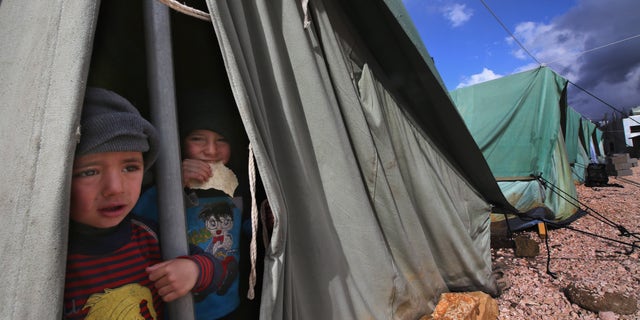 ZAATARI, Jordan – Syrian refugees in a Jordanian camp attacked aid workers with sticks and stones on Tuesday, frustrated after cold, howling winds swept away their tents and torrential rains flooded muddy streets overnight.
Police said seven aid workers were injured.
The refugees may be about to face even deeper misery with warnings of a major snowstorm threatening Jordan and Turkey — the two countries with the largest Syrian refugee populations.
"It is hell — boiling hot in the summer and freezing cold now," lamented Ahmed Zibi, 45, who said he spent the night watching over his five children when his tent collapsed. "Rain flooded the tent and its shafts submerged and collapsed on us."
The riot broke out after the region's first major winter storm this year hit the Zaatari refugee camp, home to nearly 50,000 refugees in Jordan's northern desert. Inside the camp, pools and lakes surrounded tents, stranding refugees including pregnant women and infants.
Some refugees scurried to evacuate their flooded tents while others used small buckets to bail out the water. Women, children and the elderly whose tents collapsed were hosted at other tents.
Ghazi Sarhan, spokesman for The Jordan Hashemite Chartiable Organization, said frustration over the harsh conditions triggered the riot. The charity runs the camp along with the U.N. refugee agency, UNHCR.
Dozens of refugees hit the workers with sticks and pelted them with stones as they distributed bread for breakfast.
Calls from loudspeakers echoed across the camp urging protesters to evacuate muddy streets with large puddles caused by heavy rains.
Rain was intermittent and the wind had subsided by Tuesday. But there were warnings a large snowstorm could hit Turkey and Jordan on Wednesday.
Temperatures dipped below freezing overnight and were expected to be similar late Tuesday night into Wednesday. Winds gusted up to about 35 miles per hour overnight.
Fadi Suleiman, 30, said camp conditions were "worse than living in Syria," where rebels are fighting a civil war against authoritarian ruler Bashar Assad that has killed some 60,000 in nearly two years of fighting.
"It's one misery after the other as the international community sits idle, doing nothing to help us get rid of the tyrant Assad," he said. "But this one is dangerous: There's a serious storm that could kill children and old people."
Of Zaatari's nearly 50,000 refugees, at least half are under the age of 18. They are part of more than 280,000 who fled to Jordan since the revolution against Assad broke out in March 2011.