Rescue at Canada mall to resume after residents protest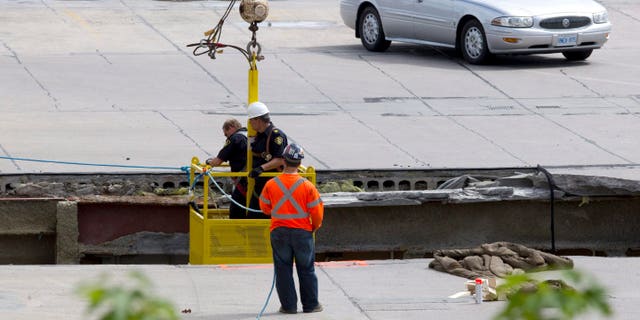 ELLIOT LAKE, Ontario – Emergency crews are considering "drastic measures" to resume rescue efforts Tuesday at a partially collapsed mall after Ontario's premier urged them to continue and residents protested that no one in the debris should be abandoned.
Rescuers detected breathing inside the rubble early Monday, but authorities enraged local residents when they called off the work later that day over fears of another collapse. One death has been confirmed after part of the mall's roof collapsed Saturday afternoon, and another person is known to be still inside.
Elliot Lake Mayor Rick Hamilton said Tuesday morning emergency crews are back onsite and teams are continuing to work with the engineers on a plan but noted that the building is not secure enough to send rescue teams back in at this point.
"It's too dangerous for people to go into that site until it's secure," Hamilton told The Associated Press in a telephone interview. "We're holding out hope. We're going to do everything we can until such time as we can get in there."
Hamilton said he couldn't comment on plans they are considering, but Elliott Lake Fire Chief Paul officer said they would be taking drastic measures including demolishing some areas of the damaged building.
"We're all very hopeful, but we have to be realistic to a certain extent that along with drastic measures come unexpected results," Officer said.
Just hours after search efforts were called off Ontario Premier Dalton McGuinty said he wanted to explore the slim odds of a rescue.
In a statement, the premier asked that other options be considered, including using heavy equipment to dismantle the building from the outside. "I believe we owe it to the families waiting for word of their loved ones to leave no stone unturned."
Dozens of residents of the former mining hub had protested in front of city hall after the decision to halt rescue efforts, saying abandoning trapped comrades would be unthinkable in miners' culture. Rescue missions never end, save our families, save our friends," they chanted, and some suggested that volunteer mine workers should take up the rescue effort themselves.
Rhonda Bear, the mall's manager, had said the mall's owners were pleading with officials to continue the search and had lawyers who would try for a court injunction against the decision to stop the rescue.
Bill Needles, a spokesman from the Heavy Urban Search and Rescue team, earlier Monday confirmed one person had died and said crews had used a remote device called the life detector to determine a person was breathing as of 4 a.m. Monday. He said the dead person is the same one whose hand and foot were visible in images captured by a remote camera on Sunday.
At least 22 people suffered minor injuries in the collapse at the Algo Centre Mall in Elliot Lake when a portion of the roof that serves as a parking area crumbled into an area near the mall's food court.
Ontario Provincial Police Insp. Percy Jollymore said officers are still trying to determine how many others are missing. A list of names submitted by citizens has been fluctuating dramatically since the accident, he said, but two names have remained constant.