Report: If extradited to U.S., 'Chapo' Guzmán would be tried in Brooklyn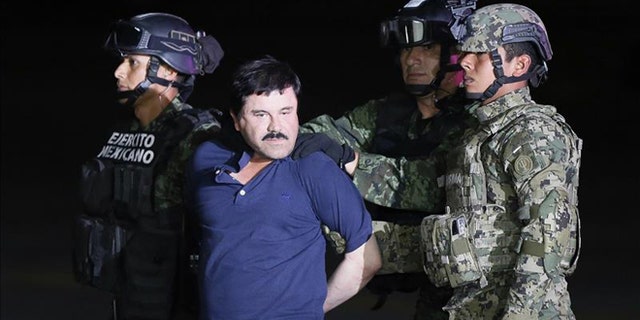 Joaquín "El Chapo" Guzmán may soon be making a trip to the Big Apple, but the Mexican drug lord won't be visiting the Statue of Liberty or taking in a show on Broadway. Instead, he'll be sight-seeing in a Brooklyn court room.
A law enforcement official told the New York Times that if the head of the Sinaloa Cartel is extradited to the U.S., he would be tried in federal court in Brooklyn.
Guzmán has been indicted in a number of jurisdictions throughout the U.S., among them Brooklyn, Manhattan, Chicago and Miami, as well as other cities where the Sinaloa Cartel operates. Brooklyn is the likeliest landing spot, the official suggested, because U.S. Attorney General Loretta E. Lynch – who will most likely have the final word on where the trial would take place – was previously the U.S. attorney of the Eastern District of New York in Brooklyn.
The only issue that stands in the way of Guzmán's extradition is when or if Mexico permits it.
Most analysts of Mexico's drug war seem to agree that his extradition will be a rushed affair but warn that the drug cartel leader might still have some legal tricks up his sleeve that would delay – or even prevent – him from being sent north of Rio Grande.
"Approving Guzmán's extradition should be relatively quick," David Shirk, political science professor at the University of San Diego and director of the Justice in Mexico project, told Fox News Latino after Guzmán's capture in January. "The only concern is if he files an injunction that could delay the move."
The U.S. formally requested Guzmán's extradition on June 25, 2015 – about 2½ weeks before his most last prison escape. During his previous incarceration, the Mexican government refused to extradite the drug lord until he had served his full prison term in Mexico. This time, the government appears more willing to send kingpin to the U.S.
Earlier this week, one of Guzmán's lawyers, José Refugio Rodríguez, told Univision that the drug cartel boss "is willing to accept his culpability for the charges [that] the United States seeks."
"[We would ask for] favorable conditions in order to face legal proceedings in the United States … Like? That he doesn't arrive at a maximum-security prison … and [that he gets there] after the penalty is negotiated," Rodríguez added.
Guzmán was recaptured in early January during a raid by Mexican Marines, which took place in the city of Los Mochis. During the raid, five suspects were killed and six – including Guzmán – were arrested. Marines seized two armored vehicles, eight rifles, one handgun and a rocket-propelled grenade launcher.
He escaped from incarceration in July through a mile-long tunnel dug to what authorities say was a building in plain sight of the Altiplano prison that was set up specifically for the prison break. The tunnel leading from the drug lord's cell to the building was equipped with a ventilation system and a customized motorcycle.