Reformists to win all 30 parliament seats contested in Iran's capital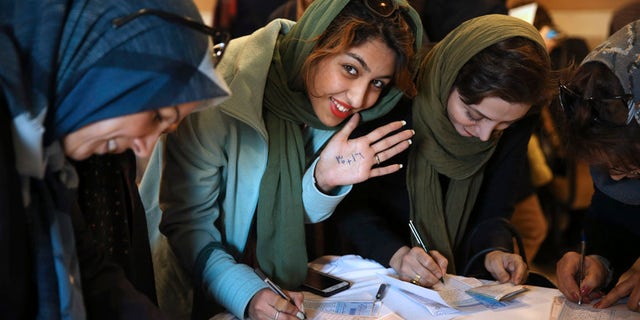 NEWYou can now listen to Fox News articles!
TEHRAN, Iran – Partial results released Sunday indicate that Iranian reformists will win all 30 parliamentary seats contested in the capital, Tehran, handing hard-liners an embarrassing defeat in the first elections held since last year's nuclear deal, which appears to be propelling moderates to their best nationwide electoral showing in more than a decade.
The deal is expected to bolster moderate allies of President Hassan Rouhani, who championed it in the face of hard-line opposition. However, none of Iran's three main political camps -- reformists, conservatives or hard-liners -- is expected to win a majority in the 290-seat assembly.
State TV said Sunday that reformists -- who favor expanding social freedoms and improving relations with the West -- are set to win all of Tehran's seats. It said 62 percent of the capital's votes have been counted.
Tehran is seen as a political bellwether where prominent members of all three camps face off against each other. Across the country, the reformist camp is on track for its best showing in more than a decade.
The final results from the elections are expected on Monday.
Friday's election was the first since last summer's nuclear deal, which brought about the lifting of crippling international sanctions on Iran in exchange for it curbing its nuclear activities.
Reformists and moderate conservatives — who supported the agreement -- appear poised to win a majority, which could pave the way for increased economic openness and greater cooperation with the West on regional issues like the war against the Islamic State group.
Reformists currently hold fewer than 20 seats and have been virtually shut out of politics since losing their parliamentary majority in the 2004 elections.
Hard-line President Mahmoud Ahmadinejad was elected in 2005. Over the next eight years, he aggressively expanded the nuclear program, which Tehran insists is entirely peaceful, and alarmed Western countries by casting doubt on the scale of the Holocaust and predicting Israel would one day be wiped off the map.
Nearly 55 million of Iran's 80 million people were eligible to vote. Participation figures were not immediately available, but Interior Minister Abdolreza Rahmani Fazli on Saturday said turnout likely exceeded 60 percent based on the partial counting of the votes.