Qaddafi's Ex-Aide Eyes Role in Post-Qaddafi Libya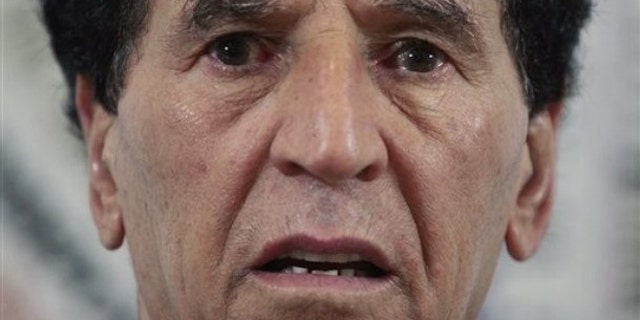 ROME – Muammar Qaddafi's one-time No. 2 is eying a role in a post-Qaddafi Libya, saying Thursday he is in talks with opposition forces to create a new nationalist political party.
Abdel-Salam Jalloud, who was Qaddafi's closest aide for decades before falling out with him in the 1990s, fled Tripoli on Friday and arrived in Italy over the weekend.
Foreign Minister Franco Frattini has said that while it's not for Italy to choose Libya's new leadership, "Jalloud has excellent traits to be one of the protagonists in the transition to a new Libya." In a radio interview over the weekend, he praised Jalloud's balanced role and that he hadn't been "stained by the crimes" of the regime.
In his first news conference since his escape, Jalloud said Thursday he didn't know where Qaddafi was but that he had been moving constantly, "one night he'd sleep in a hospital, one night a mosque" with only about four trusted aides because he feared traitors in a larger entourage.
Jalloud said he thought Qaddafi was either hiding in a modest house in Tripoli, on the Algerian border or in his hometown of Sirte, heading eventually for the desert, possibly dressed as a woman.
Jalloud, who helped Qaddafi stage the 1969 coup that propelled him to power and transformed Libya from a monarchy to a republic, said he had been in touch with the National Transitional Council since the start of Libya's uprising despite what he said was a tight security detail controlling his movements.
He said after more than a dozen thwarted attempts, he had been able to escape Tripoli and was in talks with opposition forces to form a "nationalistic, liberal, lay party" that will be headed by young Libyan men and women that will vie for power in post-Qaddafi elections.
He acknowledged Libya has little experience with the facets of democratic life -- an independent judiciary, a constitution, strong civil society organizations, free public opinion and independent media.
"All this isn't easy. Destroying it is easy but constructing it is more difficult," he said. "But with the unity and mobilization of the Libyan people, with God's will, we'll be successful."
Jalloud said Qaddafi had asked him to go on television in the early months of the uprising to denounce NATO's bombing, but that he refused, just as he had refused to meet with the Libyan leader before and after the uprising began.
"I said, 'I can't be with you against the people,"' Jalloud said through an interpreter at Rome's foreign press association. "I said, 'NATO in this case is a divine help."'
He rejected any suggestions that he might be prosecuted for any crimes committed while he was loyal to the regime.