Qaddafi Forces Drive Rebels From Key Oil Town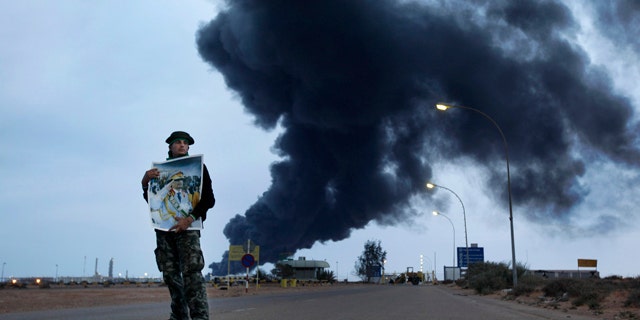 NEWYou can now listen to Fox News articles!
BENGHAZI, Libya – Moammar Qaddafi's forces swept rebels from a key oil town Sunday with waves of strikes from warships, tanks and warplanes, closing on the opposition-held eastern half of Libya as insurgents pleaded for a U.N.-imposed no-fly zone.
Qaddafi's troops have been emboldened by a string of victories in the struggle for Libya's main coastal highway but their supply lines are stretched and their dependence on artillery, airstrikes and naval attacks makes it hard for them to swiftly consolidate control of territory, particularly at night.
The insurgents claimed they moved back into the strategic town of Brega after dusk in a fast-moving battle with a constantly shifting front line, destroying armored vehicles and capturing dozens of fighters from Qaddafi's elite Khamis Brigade.
The United States sent U.S. Secretary of State Hilary Rodham Clinton to meet with rebel leaders in Paris on Monday as world powers consider trying to ground Qaddafi's air force.
The Obama administration and other governments have expressed deep reservations about a tactic that would require them to destroy Qaddafi's air defenses and possibly shoot down his planes. The Arab League raised the pressure on the U.S. and its NATO allies on Saturday by asking the U.N. Security Council to impose a no-fly zone, but a day later they appeared no closer to taking action.
"This was a rare decision of the Arab League," rebel spokesman Abdul Basit al-Muzayrik told Al-Jazeera. "We call on the international community to quickly make a firm decision against these crimes."
The poorly equipped and loosely organized rebel fighters said throughout the day they were fleeing the oil town of Brega under heavy attack, losing a vital source of fuel for their vehicles and leaving Qaddafi's military less than 150 miles from the main opposition city of Benghazi.
A spokesman for Qaddafi's military declared it had seized control of the town and was "dealing with the situation."
It was impossible to independently confirm either side's account because it has become too dangerous for reporters to operate in the contested area.
Ajdabiya is the only other major population center between Qaddafi's forces and the rebel headquarters. If his successes continue, the Libyan strongman will soon face the choice of consolidating his control of the Mediterranean coast or moving swiftly toward Benghazi and the prospect of a devastating battle.
"Benghazi doesn't deserve a full-scale military action," army spokesman Milad Hussein told reporters in the capital, Tripoli. "They are a group of rats and vermin and as soon as we go in, they will raise their hands and surrender."
Qaddafi's navy, army and air force began pounding Brega with artillery, rockets and bombs Sunday morning and didn't let up all day, forcing doctors and wounded people from the town's hospital with a missile strike, several rebels told The Associated Press after fleeing.
"There wasn't any time to breathe, to do anything," one fighter with responsibility for logistics said by telephone as he fled Brega for Ajdabiya, about 50 miles (80 kilometers) by road to the east. Explosions went off in the background.
Speaking on condition of anonymity for fear of retaliation, he said the opposition was bracing for conflict in Ajdabiya by evacuating doctors and the wounded from there, too.
He said some rebels had gathered in a seaside village a few miles east of Brega, hoping to halt Qaddafi's forces. He said more fighters from rebel strongholds in the east were heading to Ajdabiya to prepare for a battle there.
The rebels were trying to secure the southern and eastern roads to Ajdabiya and storing provisions and weapons there after the loss of free access to gasoline in Brega.
"I think they are bombing heavily because they want to win time before a no-fly zone is imposed," the rebel shouted over the phone.
An opposition leader in Ajdabiya said the rebels planned to retake Brega and were attacking Qaddafi's forces with guns and roadside bombs as they moved in reinforcements from government-held cities in the west.
Another rebel said that after their initial defeat, opposition forces destroyed armored vehicles and captured dozens of fighters from Qaddafi's elite Khamis Brigade, driving others back into Brega's airport.
A fourth opposition fighter told The Associated Press by telephone that celebrations had broken out in the nearby city of Ajdabiya, and celebratory gunfire, honking and shouting could be heard in the background.
"We are on our way to Brega to celebrate with our brothers there," he said.
However, about an hour later he said Qaddafi's forces had pushed the rebels back to a town called al-Ojela, about 12 miles (20 kilometers) east of Brega.
The rebels fighting to oust Qaddafi from power after more than 41 years were inspired by protesters who toppled authoritarian rulers in neighboring Tunisia and Egypt. A week ago they held the entire eastern half of the country and were charging toward the capital, Tripoli.
Then Qaddafi's troops began reversing those early gains with superior weaponry and firepower from the air.
With much of the fighting in the east taking place along the coastal highway bounded by strips of desert, there are few places for the rebels to take cover, forcing them to withdraw under fire before attempting to surge back.
On Sunday, Qaddafi's forces also appeared to edge closer to Misrata, battling rebel fighters on the outskirts of Libya's third-largest city, 125 miles (200 kilometers) southeast of Tripoli, residents reported.
One resident, who did not want his name used because he fears for his safety, said streets inside the city were empty as people took cover in their homes and the noise of tanks, anti-aircraft fire and machine guns grew ever nearer.
He said several tank shells had struck inside the city, hitting a mosque and an apartment building.