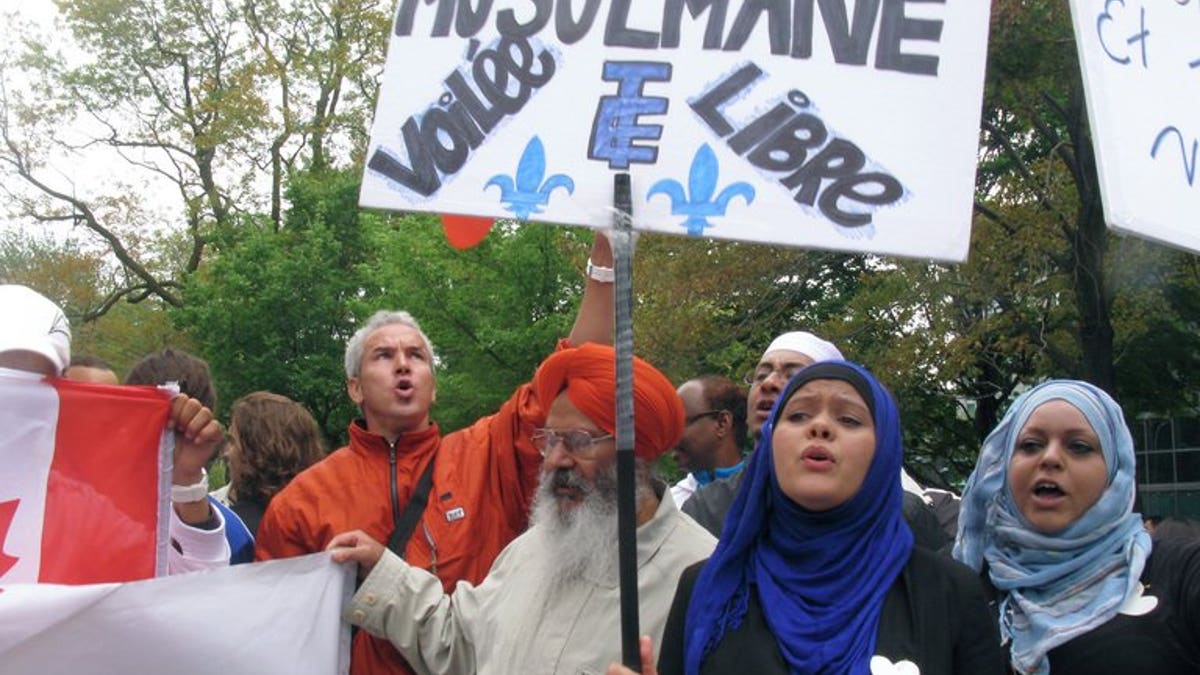 MONTREAL (AFP) – Thousands of mostly Muslim protesters took to the street in Montreal to express anger at a plan to ban public sector workers from wearing religious garb in Quebec.
The prohibition of headscarves, turbans and other religious garments is part of a proposed overhaul of the Canadian province's "Charter of Values."
"No to the charter," the demonstrators shouted, while also chanting "Quebec is not France," -- a reference to a similar law which has been in force in that country for more than two years.
The planned measure, soon to be presented to parliament, has sparked a raging debate since details were leaked to the media a few weeks ago.
It would ban public sector employees from donning "conspicuous religious symbols," including headscarves, yarmulkes, turbans, and large crosses at work, but allows certain religious jewelry, as long as it is "not very visible."
The proposal also requires people receiving state services "to make their faces completely visible" -- a measure aimed at banning some traditional head-to-toe garments worn by Muslim women.
The Quebec minister in charge of the issue, Bernard Drainville, said recently that ridding the region of the public wearing of religious apparel by government workers would help provide a greater sense of unity among Quebecers.
The proposal also aims to foster "the religious neutrality of the state," he said.
"The best way to respect all Quebecers, the best way to respect all beliefs and all religious, is for the state to have no religion," Drainville said.
That neutrality does not apply, however, to the crucifix that has adorned the main chamber of the National Assembly since 1936, which will stay up in deference to the province's "cultural heritage," he confirmed.
The prospective ban has sparked strong criticism, including from a number of federal politicians, including the head of Canada's office dealing with issues of multiculturalism.
Minister for Employment, Social Development and Multiculturalism Minister Jason Kenney said he was "very concerned" the measure "would limit the ability of Canadians to participate in our society, and that would affect the practice of their faith."