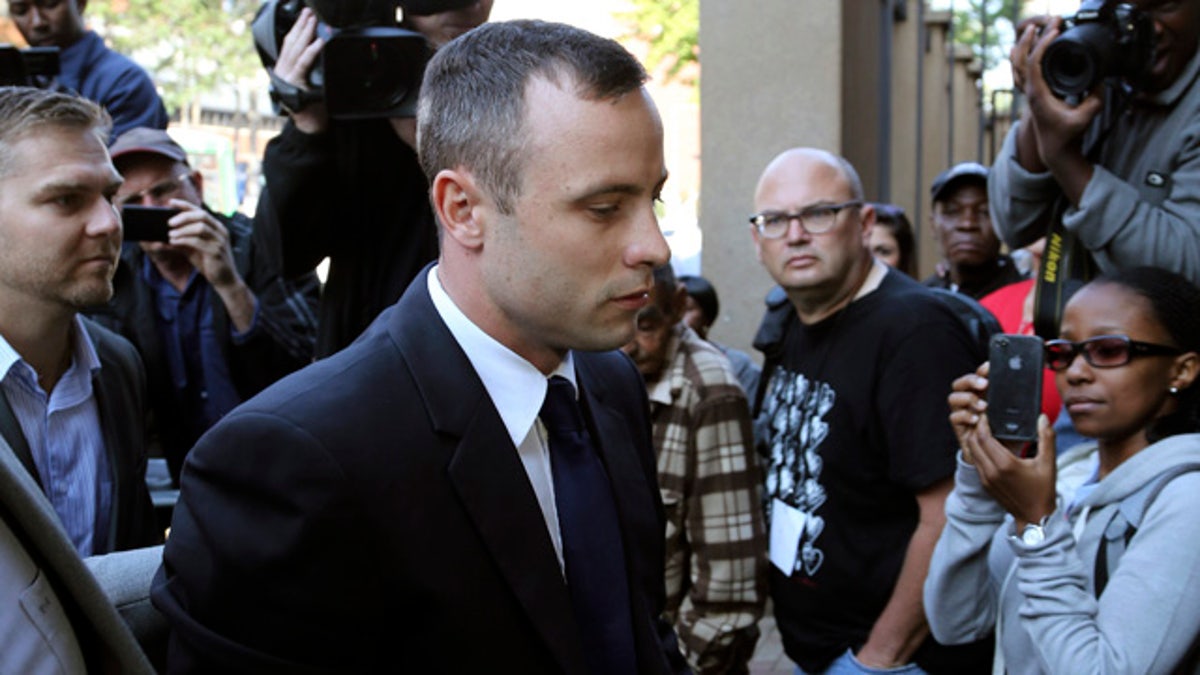 PRETORIA, South Africa – Wrapping up five days of relentless cross-examination of Oscar Pistorius at his murder trial, the chief prosecutor insisted Tuesday that he intentionally shot his girlfriend to death after they argued and -- in a final exchange -- urged the Olympic athlete to take responsibility for the Valentine's Day killing.
"Who should we blame for the fact that you shot her?" prosecutor Gerrie Nel asked Pistorius. It came right at the end of Nel's intense scrutiny of nearly every aspect of the double-amputee runner's story that he killed Reeva Steenkamp last year after mistaking her for a dangerous intruder.
"I don't know, my lady, I was scared," Pistorius replied, his voice cracking slightly as he addressed the judge and maintained his argument that he shot through a toilet cubicle door in his home at a perceived intruder who he thought was about to attack him.
It's a story the prosecutor dismissed as "improbable."
Nel accused Pistorius, the one-time star of disabled sport, of tailoring evidence and concocting the version to cover up that he killed Steenkamp intentionally after a late night fight.
Pistorius steered away from a direct response to the prosecutor's invitation to take the blame for Steenkamp's killing, saying only that he opened fire because he believed his life was under threat. That remark drew barbed follow-up questions from Nel.
"We should blame somebody ... Should we blame Reeva?" asked Nel, who has harshly criticized Pistorius as someone who is unwilling to take responsibility for his actions.
"No, my lady," Pistorius replied, addressing Judge Thokozile Masipa in line with court custom.
"She never told you she was going to the toilet," Nel said. Then he asked: "Should we blame the government?"
When Pistorius responded with another reference to a perceived attacker in his toilet, Nel asked: "Who should we blame for the Black Talon rounds that ripped through her body?"
He abandoned his line of questioning soon after the judge questioned whether he was asking the same thing in a different way.
Nel said the court "will" find that Pistorius, 27, is lying and intentionally killed the 29-year-old model and rising reality TV star. That drew an objection from defense lawyer Barry Roux.
In the adjournment after his cross-examination, Pistorius rubbed his eyes and briefly sank his head onto the shoulder of a man who had been sitting with his family. He took a tissue from his sister Aimee, who squeezed his arm reassuringly. Shortly afterward, he listened attentively as Roux spoke to him in a low voice.
Nel asserted that the couple fought during the night of the shooting and Steenkamp wanted to leave, and then fled to the bathroom screaming before Pistorius shot her through the door with his 9 mm pistol. Pistorius said he never heard Steenkamp scream, or say anything in the minutes before he shot her.
The prosecutor even charged that Pistorius fired the four shots from about three meters (yards) away from Steenkamp as he was talking and arguing with Steenkamp, and changed his aim with later shots to ensure that he hit her as she fell back. Nel's unrelenting questioning and accusations provoked many denials by Pistorius and caused the athlete to break down in sobs on numerous occasions.
"Unfortunately I have to put it to you that it's getting more and more improbable," Nel said to Pistorius of his story.
Pistorius struggled at times to explain alleged inconsistencies during his testimony and the Paralympic champion faces 25 years to life in prison if convicted of premeditated murder.
He remained in the witness box while Roux asked him a series of follow-up questions after the recess, with his lawyer attempting to reinforce the account of a mistaken killing. Roux asked Pistorius to describe his thoughts and emotions in the seconds before he shot at the door.
"I was terrified. I feared for my life. I was just scared," Pistorius said. "I was thinking about what could happen to me, to Reeva. I was just extremely fearful."
During cross-examination, Pistorius gave a sometimes muddled account of the shooting, saying he feared for his life but also didn't intentionally shoot at anyone, prompting Nel to query if his defense was self-defense or "involuntary action."
Pistorius also told Roux he didn't consciously pull the trigger on his gun and said it happened "before I could think."