President Maduro threatens to jail legislators ahead of 'political trial'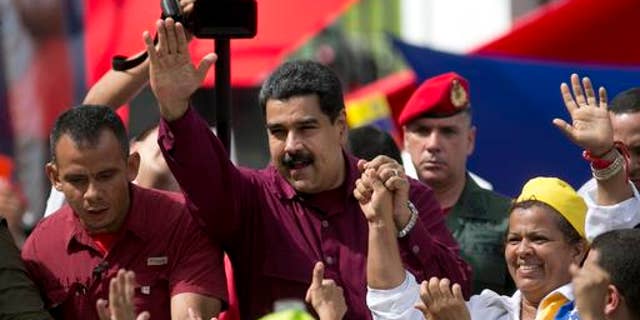 CARACAS, Venezuela (AP) – Venezuela's socialist president threatened on Friday to jail legislators if the opposition-controlled congress goes ahead with a symbolic "political trial" accusing him of trampling on the constitution and installing a dictatorship.
"If they proceed with this so-called political trial, which is not in our constitution, the state will bring legal action and take anyone violating the constitution to jail, lawmaker or no," President Nicolas Maduro said as an opposition attempt to encourage a widespread strike fizzled, handing the embattled leader a rare victory.
Congress doesn't have the power to remove a president from office, but the opposition has been racheting up its campaign trying to force Maduro from office since electoral authorities canceled a recall referendum on removing him. Polls say three out of four Venezuelans want Maduro out of office this year, blaming him for the country's worst economic slump in decades.
Still, not many people in Venezuela's capital participated in what the opposition hoped would be a 12-hour work stoppage. Some stores closed and traffic was lighter, but public transport ran and businesses and factories operated at near-normal levels.
At the same time, thousands of Maduro's supporters gathered outside the presidential palace to cheer him.
"This is a message to the right-wing leaders: Your strike has failed," Tareck El Aissami, the pro-government governor of Aragua state, said of the weak participation in the strike. "Nobody is going to support a coup."
Some Venezuelans said they couldn't afford to stay home.
In the opposition's stronghold of eastern Caracas, young mothers and the elderly standing in a two-hour line for food said that Friday was the only day they could hunt for groceries under a rationing system put in place earlier this year that restricts shopping to one day in the work week at supermarkets selling food at subsidized prices.
"If I don't shop, I can't eat tonight," said Gipssy Bracho, a 59-year-old retiree.
The stoppage recalled opposition tactics used in 2002 ahead of a coup that briefly unseated President Hugo Chavez, who began Venezuela's socialist administration and is still mostly revered. Maduro, his hand-picked successor, is widely unpopular.
As with Maduro's warning to congressmen over the trial, senior government officials had responded to the strike call with threats.
Socialist leader Diosdado Cabello warned that businesses participating in the strike would be expropriated. Underlining the threat, heavily armed agents from the Sebin political police parked for a second day outside the offices and mansion of Lorenzo Mendoza, the head of the nation's largest food manufacturer, Polar, who took part in an anti-Maduro march Wednesday.
Andres Garban, a 24-year-old employee in Polar's legal department, said he and many of his colleagues came to work against their wishes to protect their jobs.
"They think they own Venezuela," Garban said, staring at the police adjacent to a beer factory that has been idled for months due to a lack of dollars to purchase imported barley. "I would've liked to exercise my civic rights but thanks to the intimidation I had no choice but to come to work."
On Thursday, Maduro announced he was raising the minimum wage by 40 percent, the fourth increase this year.
Economists, however, say prices are rising even faster, with the International Monetary Fund forecasting Venezuela's inflation rate will soar to four digits next year. The currency's slide on the widely used black market has depressed the value of the minimum wage in the oil-rich nation to around $90 a month, one of the lowest in Latin America.
Congress also spent the week pursuing a claim that Maduro is a citizen of Colombia as well as Venezuela, which would disqualify him from the presidency under the constitution. Ever since taking office in 2013, Maduro has been beset by unsubstantiated claims and forged documents circulating on the internet that he was born in the border town of Cucuta, Colombia, to his Colombian mother.
On Friday, Venezuela's Supreme Court, which is stacked with Maduro loyalists, declared that any claim that the president was not born in Venezuela are baseless.
Like us on Facebook
Follow us on Twitter & Instagram