President Bashar Assad says Syria is capable of facing Israel after airstrikes near Damascus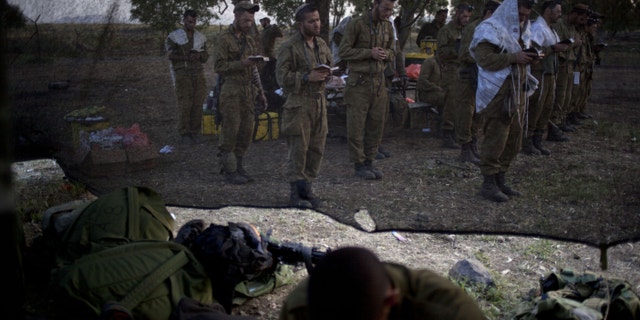 BEIRUT – In his first response to Israel's weekend airstrikes, President Bashar Assad said Tuesday that Syria is capable of facing Israel, but stopped short of threatening retaliation for the strikes near the Syrian capital of Damascus.
Assad spoke after a meeting with Iranian Foreign Minister Ali Akbar Salehi, who paid an unexpected visit to Damascus.
Iran, one of Syria's closest allies, and Hezbollah, a Lebanese militia allied with both Assad and Tehran, have become increasingly involved in Syria's civil war, supporting the regime with fighters, military advisers and weapons. Syria and Hezbollah have been key to Iran's expansion of influence into the Arab world, and a collapse of the Assad regime would be a major blow to Tehran.
"We are fully confident that Syria will emerge victorious from the crisis," Salehi said about the more than 2-year-old battle between fighters loyal to Assad and rebels trying to oust him.
Israel's airstrikes on Friday and Sunday put Syria and Iran in a difficult position because if they retaliated, they would run the risk of drawing Israel's powerful army into the war. At the same time, inaction further weakens Assad's already shaky claims to being the leader of the Arab world's hard-line, anti-Israeli camp.
Israel has not formally acknowledged the strikes, but Israeli officials have said they targeted shipments of advanced Iranian weapons possibly bound for Hezbollah. The officials have said the aim was to deprive Hezbollah of weapons that could someday be used against Israel, not to raise tensions with Syria.
Israel has largely stayed on the sidelines since the uprising against Assad, which erupted in March 2011, turned into an armed insurgency and finally a civil war.
But on Tuesday, Assad accused Israel of supporting "terrorists" — the Syrian government's name for the anti-regime rebels — and boasted that Syria was "capable of facing Israel's ventures." He did not say what action he would take, if any.
Salehi adopted a slightly harsher tone, saying that "it is time to deter the Israeli occupiers from carrying out these aggressions against the peoples of the region." He also stopped short of threatening retaliation.
Later Tuesday, Internet companies reported Syria was experiencing an outage similar to a two-day blackout last fall. Syrian authorities have cut phone and Internet service in select areas in the past to disrupt rebel communications when regime forces are conducting major operations. The companies said Syria's networks appeared to go offline about 9 p.m. (1900 GMT).
Meanwhile, the United States and Russia, another Syria ally, said they'll convene a new international conference later this month to build on a transition plan they set out last year in Geneva.
Speaking in Moscow after his discussions with Russian President Vladimir Putin and other officials, U.S. Secretary of State John Kerry said the plan should be a roadmap for peace and not just a "piece of paper."
The goal is still to bring the Assad regime and representatives from the opposition together for talks on setting up an interim government, Kerry said. The Geneva plan, which never gained traction, allowed each side to veto candidates it found unacceptable.
In Syria, meanwhile, rebels detained four U.N. peacekeepers on Tuesday near the frontier with the Israeli-controlled Golan Heights, raising tensions just two days after the most recent Israeli airstrike.
The abduction was the second such incident in the area in two months. It exposed the vulnerability of the U.N. peacekeeping mission during the Syrian civil war and sent a worrisome signal to Syria's neighbors — including Israel — about the ensuing lawlessness along their shared frontiers.
Rebels with the Yarmouk Martyrs Brigades are holding the peacekeepers, a spokesman said in a phone interview. The Yarmouk Brigades were behind the abduction in March of 21 Filipino U.N. peacekeepers released unharmed after four days of negotiations. The spokesman spoke on condition of anonymity because he was outside of Syria serving as a mediator on peaceful matters concerning the group.
In New York, Kieran Dwyer, spokesman for the U.N. peacekeeping department, confirmed the abduction and said the four peacekeepers, all from the Philippines, were taken on Tuesday by an unidentified armed group near the town of Jamla in southern Syria.
"Efforts are underway to secure their release now," Dwyer said.
In a statement posted on the Yarmouk Brigades' Facebook page, the group said the peacekeepers were not hostages, but were being held for their own safety. The statement did not specify where the peacekeepers were being held, nor did it specify conditions for their release.
The rebel unit said it suspects the U.N. peacekeepers are shielding Assad's troops, who the rebels said killed civilians during an army sweep of Wadi Raqat in the south.
In Manila, Philippine military spokesman Brig. Gen. Domingo Tutaan said that he had seen photos of the Filipino peacekeepers posted on the Internet and it appeared that none had been hurt.
He said that his government was in contact with the U.N. mission and the Philippine contigent of the U.N. Peacekeeping Forces in Syria for updates and developments "and possible additional actions from our end subject to the terms of deployment." He did not elaborate.
The Philippine Department of Foreign Affairs, in a statement, condemned the peacekeepers' abduction and called for their immediate and safe release, urging the U.N. Security Council to take action to secure their freedom.
"The Philippines underscores that the apprehension and illegal detention of peacekeepers are gross violations of international law," the statement said.
The U.N. monitoring mission was set up in 1974, seven years after Israel captured the Golan Heights and a year after it managed to push back Syrian troops trying to recapture its territory in another regional war. For nearly four decades, the U.N. monitors have helped enforce a stable truce between Israel and Syria. But in recent months, Syrian mortar shells overshooting their target have repeatedly hit the Israeli-controlled Golan.
___
AP writers Bassem Mroue in Beirut, Edith M. Lederer at the United Nations, Jamal Halaby in Amman, Jordan, Teresa Cerojano, in Manila, the Philippines, and Albert Aji in Damascus, Syria, contributed to this report.