Prayers to drive out ghost at Bangladesh garment plant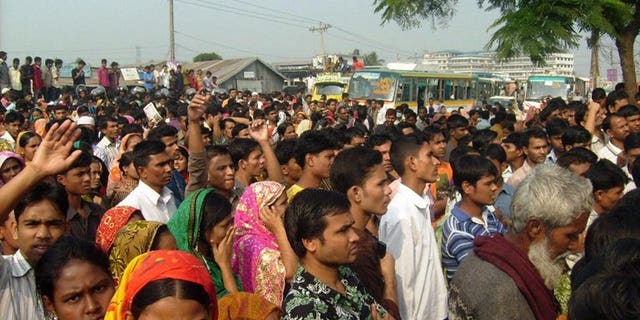 DHAKA (AFP) – Owners of a Bangladesh garment factory were forced to offer prayers and distribute food to the poor on Wednesday in a bid to drive out what workers believed was a ghost at the plant, police said.
Some 3,500 workers stopped work at the plant in Gazipur, north of Dhaka on Tuesday, and smashed furniture to demand action to remove the ghost, which some workers claimed had attacked them in the ladies' washroom.
"The agitating workers refused to join duty and vandalised the factory after the management did not take any steps to drive out the ghost," Gazipur industrial police inspector Showkat Kabir told AFP.
Kabir said the owners held special prayers -- recitation of the Koran and hymns in praise of the Prophet Mohammed -- at the factory and also distributed food among the poor to drive out the "ghost".
"All the workers, owners and the managers will join the prayers and the factory will reopen on Thursday after two days of shutdown due to the ghost-related protests," he said.
A medical expert said the "ghost attack" could be a sign of psychological distress in the wake of a series of deadly disasters involving garment workers in the past six months.
In April 1,129 people were killed in one of the world's worst industrial disasters after a nine-storey factory complex called Rana Plaza caved in trapping over 3,000 garment workers. Scores of workers had limbs amputated to rescue them from pancaked floors.
"The garment workers are panicked. The memory of the death of so many of their colleagues at Rana Plaza is still fresh," Mahmudur Rahman, director of the Institute of Epidemiology, Disease Control and Research (IEDCR) told AFP.
Rahman said the so-called ghost sighting could be a "symptom" of mass hysteria, a mysterious illness that the institute says could also be responsible for the illness of hundreds of garment workers in recent weeks.
"One worker might have hallucinated on a ghost-like object and as the news spread other workers started to think that they also saw that ghost or (thought) it attacked them," Rahman said.
Hundreds of workers have fallen sick at several garment plants, which the IEDCR said could be linked to a "mass psychogenic illness" or "mass hysteria" affecting mentally and physically vulnerable people from a similar group.
Kabir added that "mass psychogenic illness" appears highly contagious. As soon as one or two workers fall sick, others are immediately struck with similar symptoms, he said, adding that extremely hot weather contributes to their vulnerability.