Pope's Tailor Ordered to Prepare Clothes for Three Tall Europeans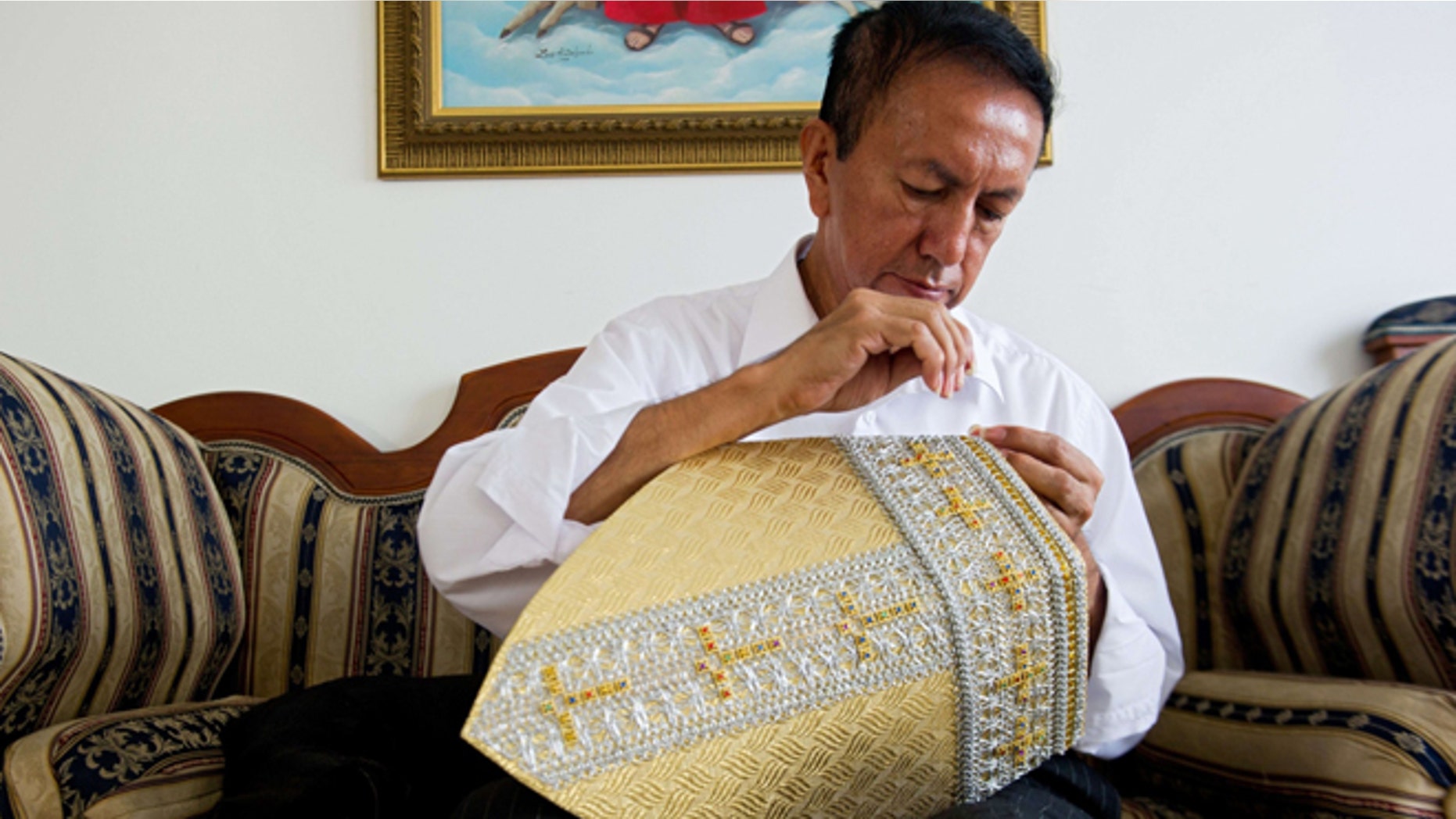 The official tailor for the pope said Thursday he received orders from the Vatican to prepare three different sizes of mitres, or ceremonial papal hats, and regalia for the next pope, specifically designed for tall European men.
"They have ordered robes for three tall people measuring anywhere between 5'8 and 6 feet tall. None of them are Latino, they are European," said Luis Abel Delgado, the official papal tailor from his small apartment in Cali, Colombia. His home is decorated with photos of him with Pope Benedict XVI and Colombian President Juan Manuel Santos.
"I had to do three different mitres and I started a while ago because making just one takes time and you have to do them right away for whoever is elected. Equally, I have five made for everyone," Delgado said.
As the tailor for former Pope Benedict XVI, Delgado, 44, explained he had no idea the pope was going to resign weeks after the Vatican ordered the clothes to be made.
He takes great pride in his work and recognizes that the Vatican particularly appreciates his embroidery because it's done by hand.  The tailor also does embroidery for the Colombian Army's Third Brigade, and has embroidered for several heads of state in the Americas.
"The embroidery I do is made by hand, and there are very few people who still do that. For example, the cassocks in Rome are made by machine," said Delgado, who said he embroiders everything from clergy stoles, or the long silk scarf, to cassocks, the ankle-length robe, for not just the pope but also the cardinals.
Delgado said his relationship with Pope Emeritus Benedict began in 2007.
"I met Pope Benedict XVI in Brazil in 2007. I was delivering ornaments to some priests, and I gave him some chasubles (the long, sleeveless vestment worn by priests) and mitres," he said. "After a few months he saw my work, liked it, and invited me to Rome. So I went to meet him and from there on I began to make his suits."
Delgado spoke of Benedict's resignation as pope with great nostalgia, but he realizes he has gained a great friend.
"It's true, today I feel very proud to have a friend I hope to visit at Castel Gandolfo," he said. "Besides I'll continue to speak with him over Skype like we have in the past."
Translated from EFE.
Follow us on twitter.com/foxnewslatino
Like us at facebook.com/foxnewslatino