Pope shores up papal household after leaks scandal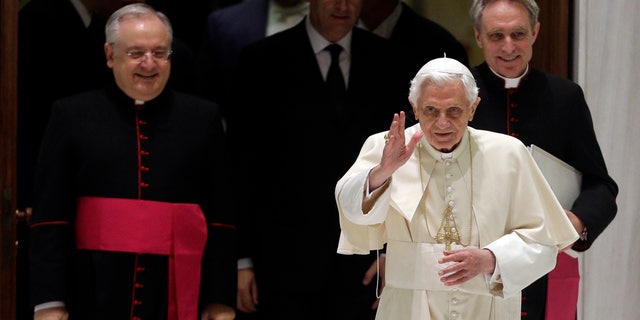 VATICAN CITY – Pope Benedict XVI moved Friday to shore up the papal household in the aftermath of the Vatican's leaks scandal, naming his trusted secretary to also run the office that organizes his schedule.
German Monsignor Georg Gaenswein replaces American prelate James Harvey, who was recently made a cardinal, as papal household prefect. The prefect arranges the pope's audiences and other events on his schedule and manages the papal household.
For nearly a decade Gaenswein, 56, was personal secretary to Cardinal Joseph Ratzinger, the future Pope Benedict, at the Congregation for the Doctrine of the Faith. He continued in that role after the German became pontiff in 2005. The Vatican said Gaenswein would likely remain on as papal secretary, adding the duties of the household prefect to his existing ones.
Harvey left the Apostolic Palace under somewhat difficult circumstances. As prefect, he had been the supervisor of Paolo Gabriele, the pope's former butler, who was convicted in October in a Vatican court of stealing the pontiff's personal papers and leaking them to a journalist — a scandal that convulsed the Vatican all year. In the trial's aftermath, Harvey, 63, left the job — promoted to a cardinal but also named to a job outside the Vatican as archpriest of one of the Vatican's four basilicas in Rome.
Gaenswein initially confronted Gabriele in May when he noticed three letters that had been on his desk ended up in the book of leaked papal correspondence, "His Holiness: The secret papers of Pope Benedict XVI." Gabriele initially denied he had taken them, but later admitted to Vatican investigators that he had leaked the documents because he felt the pope wasn't being informed of the "evil and corruption" around him and exposing the problems publicly would put the church back on the right track.
While Gaenswein's testimony was critical in convicting Gabriele, the former butler also made clear that he had photocopied the documents right under Gaenswein's nose, since they shared an office next door to the pontiff's studio. Gabriele testified that he used the office photocopier just a few yards away from Gaenswein's desk to copy the documents that he later handed to Gianluigi Nuzzi, the book's author.
Gaenswein is often seen at the pope's side when he is in public, riding along with him in the popemobile on foreign trips and the jeep that he uses to get around St. Peter's Square for his general audiences.