Pimps Arrested in Spain for 'Barcoding' Women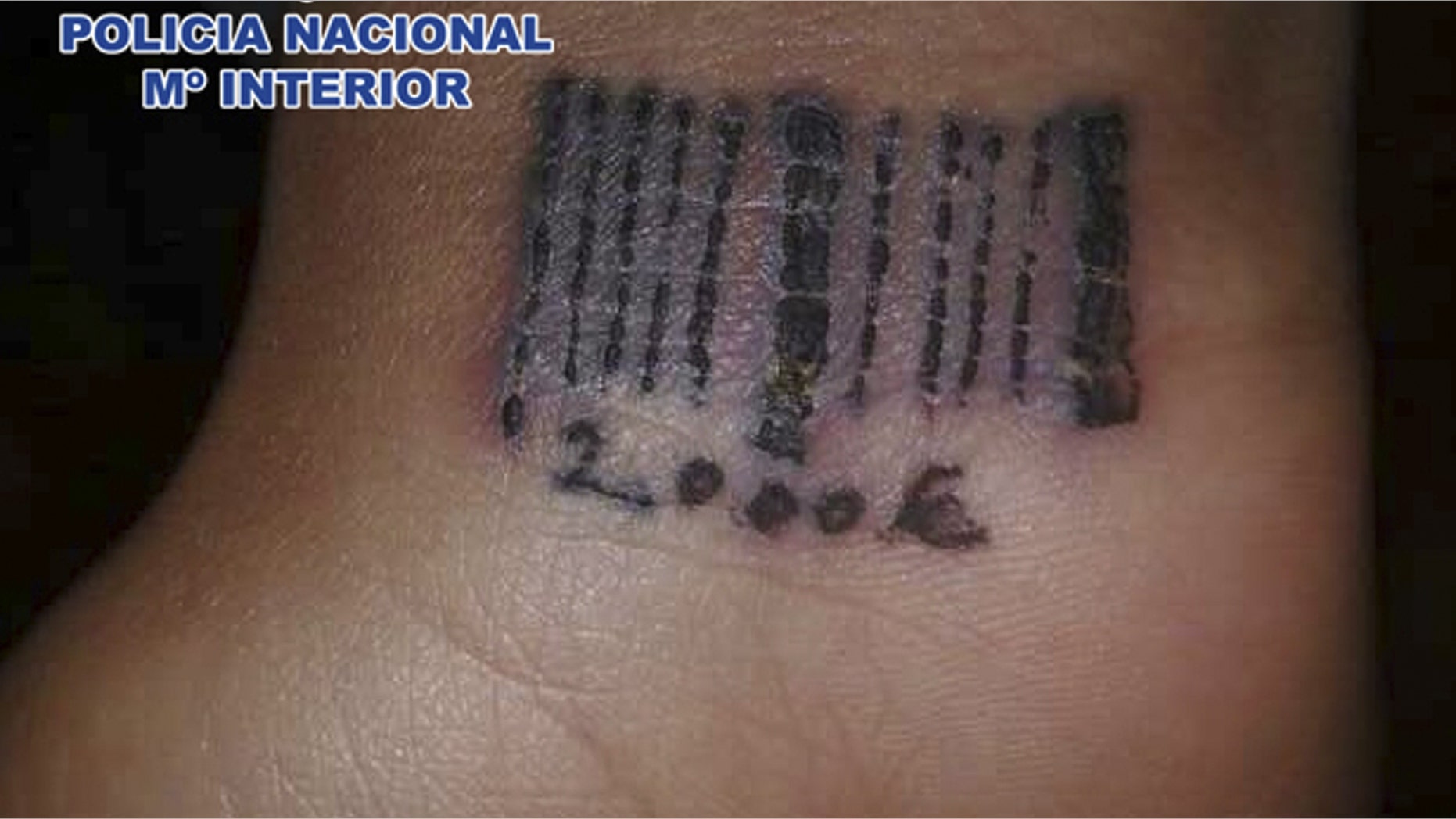 MADRID – Police in Spain arrested 22 alleged pimps who purportedly tattooed women with bar codes as a sign of ownership and used violence to force them into prostitution.
Police are calling the gang the "bar code pimps." Officers freed one 19-year-old woman who had been beaten, held against her will and tattooed with a bar code and an amount of money — €2,000 ($2,650) — which investigators believe was the debt the gang wished to extort before releasing her.
The woman had also been whipped, chained to a radiator and had her hair and eyebrows shaved off, according to an Interior Ministry statement.
All those arrested were of Romanian nationality and had forced the women to hand over part of their earnings, the statement said.
The women were tattooed on their wrists if they tried to escape, the statement said. Police also seized guns and ammunition. It was not immediately clear when the raids took place.
Police seized €140,000 ($185,388) in cash, which had been hidden in a false ceiling, a large amount of gold jewelry and five vehicles, three of which were described as luxury cars.
The gang was made up of two separate groups, referred to as "clans" in the statement, each dedicated to controlling prostitution along fixed stretches of a street in downtown Madrid.
One of the alleged ringleaders who was identified only by the initials "I.T." is wanted by authorities in Romania for crimes linked to prostitution, the statement said.
The women were controlled at all times to ensure "money was taken off them immediately," the statement said.
Activists Push To Keep Bullfighting in Spain
Sex is a multibillion-dollar industry in Spain, with colorfully lit brothels staffed mainly by poor immigrant women from Latin America, Africa and eastern Europe lining highways throughout the country.
Prostitution falls in legal limbo: it is not regulated, although pimping is a crime. The northeastern city of Barcelona plans to introduce regional legislation in coming weeks banning prostitution on urban streets.
Based on reporting by The Associated Press. 
Follow us on twitter.com/foxnewslatino
Like us at facebook.com/foxnewslatino