Philippines warns Canada about severing diplomatic ties over trash - but walks back war threat
Filipino President Rodrigo Duterte isn't done with the dramatics just yet.
Though his government is walking back threats of war, the f-bomb dropping leader is now vowing to sever diplomatic ties with Canada if it doesn't retrieve 2,000 tons of trash that was accidentally sent to Manila in 2013 and 2014.
"The 70 years of diplomatic relations between the two countries will be put to naught if Canada will not act with dispatch and finality the resolution of this undiplomatic episode to which we take outrage," presidential spokesperson Salvador Panelo, who also acts as chief presidential legal counsel, said in a statement.
CANADA-PHILIPPINES TRASH WAR: WHO WOULD WIN IF DUTERTE ACTUALLY FOLLOWED THROUGH WITH HIS THREAT?
He added that Canada can't "dilly dally" on picking up the trash that purportedly contains household garbage and used adult diapers.
"It must retrieve them pronto or we throw them back to its shores," Panelo added.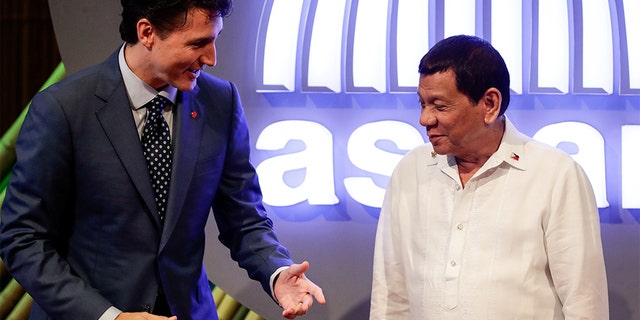 Thursday's threats to cut ties comes two days after Duterte said he would declare war on the North American nation if they didn't clean up their mess. The nation's unconventional leader went all-in on Canada, slamming them during a televised meeting with local officials after visiting earthquake-hit Pampanga province, north of Manila.
PHILIPPINES' DUTERTE GIVES CANADA 1 WEEK TO TAKE BACK GARBAGE OR 'WE WILL DECLARE WAR'
"I want a boat prepared. I'll give a warning to Canada maybe next week that they better pull that thing out or I will set sail to Canada and pour their garbage there," Duterte said, adding he would ask Canadian officials to "prepare a grand reception."
"Celebrate because your garbage is coming home," he said. "Eat it if you want to."
Despite the soundbites, Duterte's Defense Secretary Delfin Lorenzana chalked up the threats of war to a "figure of speech."
"It's a figure of speech meant to dramatize his extreme displeasure," he told reporters Wednesday night. "But if it were me, I would run after the importer of the garbage."
CLICK HERE FOR THE FOX NEWS APP
The Canadian Embassy in Manila has said it was "strongly committed to collaborating with the government of the Philippines to resolve this issue."