Philippines army chasing rebels after release of hostages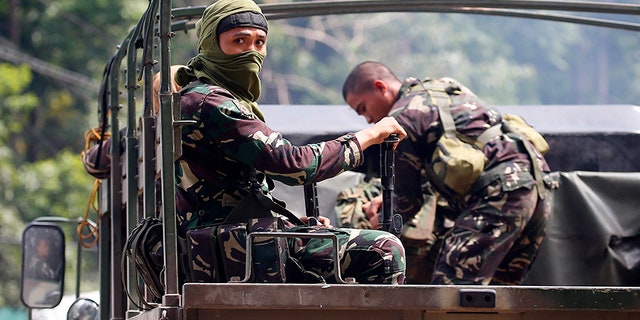 NEWYou can now listen to Fox News articles!
Muslim rebels fled after freeing dozens of hostages from a school in a southern Philippine village on Wednesday and were being pursued by army troops, as a daylong crisis eased in in the volatile region, officials said.
Gunmen from the Bangsamoro Islamic Freedom Fighters prepared to attack troop and militiamen outposts but were repelled by government forces early Wednesday, prompting them to seize villagers as human shields in Malagakit village in North Cotabato province, military officials said.
At least four rebels were killed and two government militiamen were wounded in the fighting, which caused nearly 1,000 villagers in Malagakit and two nearby villages to flee to safety, the officials said.
The retreating gunmen, estimated by the military and police to number from 200 to 300, later occupied a Malagakit grade school building, where they sporadically traded shots with troops up to nightfall, said local army spokesman Capt. Arvin Encinas.
During a lull in the gunbattle, 31 people, including a dozen children, were either allowed to dash to freedom or escaped from the school. Other captives in the school and more 20 other residents who were trapped in their houses later were taken to safety by troops, officials said.
The gunmen managed to escape from the school after freeing the hostages and the other captives were rescued, Encinas said.
"While our troops were slowly approaching, they fled and left behind the civilians that they held as hostages," he said.
The rebels may have taken advantage of a massive military offensive against militants aligned with the Islamic State group who have laid siege to the southern city of Marawi, and plotted to attack military targets elsewhere, military spokesman Brig. Gen. Restituto Padilla said at a news conference.
"They were taking advantage of the situation that we have a very lightly defended outpost and that they think our forces are elsewhere in the province," Padilla said. "But that is not the case, our forces are spread all over. We may be facing many fronts ... but we've properly assigned our forces."
Rebel spokesman Abu Misry Mamah acknowledged in a radio interview that his group staged the attack, but said they only took hold of some villagers to protect them during the gunbattle.
The rebels broke off from the largest Muslim rebel group several years ago to protest peace talks with the government. Weakened by battle setbacks, some commanders have aligned themselves with the Islamic State group in the hope of securing funding from the Middle East-based group, according to the military.
Last month, about 500 militants seized Marawi, a mosque-dotted center of the Islamic faith in the south of the predominantly Roman Catholic nation. The attack followed an army and police raid on a hideout that failed to capture a top militant suspect. Philippine troops, backed by airstrikes, have been fighting street battles to wrest back control of four areas in the city's business district.
At least 258 militants, 65 soldiers and police and 26 civilians have been killed and more than 300,000 villagers have fled from Marawi and outlying towns.
The U.S. military in recent weeks deployed a P3 Orion aircraft to provide surveillance for troops battling more than 100 gunmen holding an unspecified number of hostages in Marawi. President Rodrigo Duterte, despite having an antagonistic stance toward Washington, has acknowledged the U.S. assistance is helping save lives.
The attack has sparked fears that the Islamic State group, while losing territory in Syria and Iraq, may be gaining a foothold in Southeast Asia. Duterte declared martial law in the entire Mindanao region to deal with the Marawi crisis.