Peso bills made out of thin, durable plastic to hit the streets in Uruguay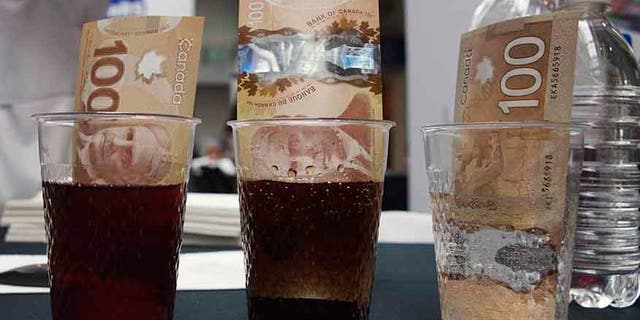 NEWYou can now listen to Fox News articles!
Uruguay will put into circulation its first peso bills made out of plastic, which will be waterproof and should be harder to counterfeit.
The Central Bank (BCU) will issue 10 million plastic bills of 50 pesos in commemoration of its 50th anniversary, El Pais newspaper said.
The BCU board said a statement that the bills, made out polymer, can stay in circulation up to four times longer than the paper ones.
"This is the right time to issue the first banknotes in the country made out of polymer, a material that according to previous experiences in other parts of the world has a resistance that extends their life and therefore are more environmentally friendly", the board said.
BRITAIN'S NEW MONEY IS PLASTIC, EASY TO LAUNDER (IN MACHINE)
This type of banknotes were first introduced in Australia in 1988. They are made with biaxially oriented polypropylene (BOPP), a type of polypropylene used to make clear bags and packaging material for artistic and retail products, among other things.
Although more expensive to make than paper bills, the longer durability of plastic bills makes up for the initial expense, BCU said.
Currently, polymer banknotes are manufactured in 47 countries. Some of them are 10 reals (Brazil); 1,000, 2,000 and 5,000 Chilean pesos; 2,000 and 5,000 guaraníes (Paraguay); 100 yuan (China); 500 dirhams (United Arab Emirates); 100 rubles (Russia) and 10, 20, 50 and 100 Australian dollars.