Panicked residents flee Gaza City neighborhood hit by tank fire as Israel widens offensive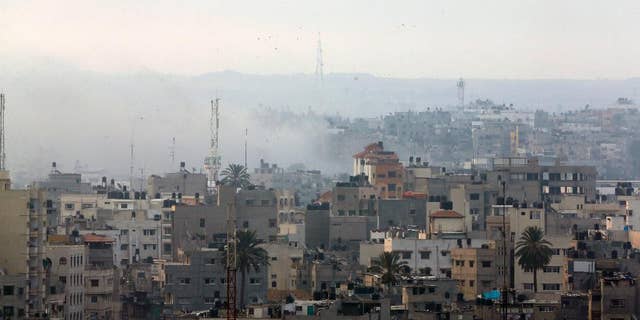 GAZA CITY, Gaza Strip – Hundreds of panicked residents have fled a Gaza City neighborhood which they say has come under heavy tank fire from Israeli forces. Some reported seeing dead and wounded in the streets, with ambulances unable to reach the area.
Israel widened its ground offensive early Sunday, sending more troops into the Hamas-ruled territory to destroy tunnels used by the Islamic militants to try to sneak into Israel.
Witnesses say that as part of the push, tanks firing shells at random moved into Gaza's Shijaiyah neighborhood, close to Israel. Area resident Mohammed al-Helo says he and many of his neighbors fled because of the heavy fire.
Palestinian officials say at least eight people were killed in the neighborhood, including the son, daughter-in-law and two grandchildren of senior Hamas leader Khalil al-Haya.