Panama to expel more than 3,000 U.S.-bound Cubans stranded on its border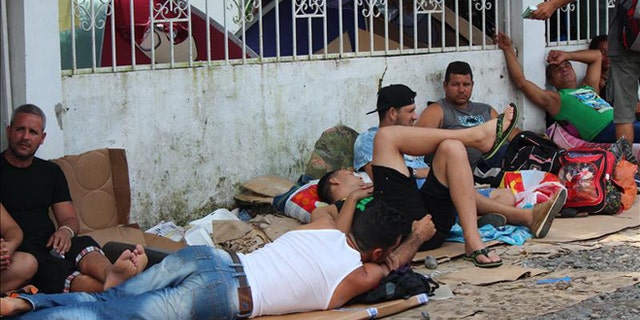 NEWYou can now listen to Fox News articles!
Following in Costa Rica's steps, Panama is planning to expel thousands of Cuban migrants currently stranded in the country on their way to the U.S.
A Foreign Ministry official said earlier this week that some 3,000 Cubans will be transferred to a facility near the border with Costa Rica in preparation to fly them to Mexico.
Then it intends to close its borders to migrants from the island nation, according to In Cuba Today, the way Nicaragua has.
More than 670 Cuban migrants are already housed in the border facility, called Los Planes shelter. At least a hundred more are now in detention on the Colombia border.
President Juan Carlos Varela said the first step is to count them all.
"Once the transfer of those Cubans included in the census is completed, those who arrive later will have to decide which country they want to return to," Varela told Panamanian news outlets when announcing the closing of the country's borders. "We cannot become the logistical support for an irregular migration route."
The counting and relocation of the Cubans began last week.
"This is mostly pregnant women and families with children, who should be taken to a place that has the services they deserve," regional migration director Alfredo Cordóba told In Cuba Today. The goal, he added, is "to concentrate all the migrants in an area where their basic necessities can be met."
Since the end of 2014, when the governments of the U.S. and Cuba announced their intention to normalize diplomatic relations, migrants leaving the Communist nation have increasingly chosen to try to come here over land.
Under current immigration rules, Cubans who reach U.S. soil are granted immediate legal status, while those intercepted at sea are returned to the island.
Many of the migrants stuck in Panama flew to Ecuador, which until last November didn't require Cuban citizens to have visas to enter the country. From there, the migrants embarked on a 3,400-mile overland trip to the United States, crossing through eight different countries en route.
Earlier this year, Cuban migrants stuck in Costa Rica were shipped to Mexico to continue their journey north.
Angel Chale, who before Los Planes was staying in an old warehouse about a mile from the border with Costa Rica with 400 other Cuban migrants, told In Cuba Today, "I think we're at the end of the process. At least they're not still making photocopies of our passports. That's something."
Another migrant, Leslie Jesús Barrera, told the news outlet, "This new place is kind of fun. We usually play baseball or dominoes or we dance … We help out when we're asked to help with some task, but otherwise it's like camping."
During 2015, according to Mexican government figures, an average of 1,000 Cuban migrants entered Mexico every month.
Official Panamanian statistics show that the number of migrants has fallen in recent months, but according to Angela Buendía, director of the National Civil Defense System, the flow continues. "Each day we receive 20 to 60 Cuban migrants in Chiriquí" – the province Los Planes is in, she told In Cuba Today.
"That's why we decided to prepare this shelter," she said.