Palestinians killed after 3 separate attacks on Israeli security forces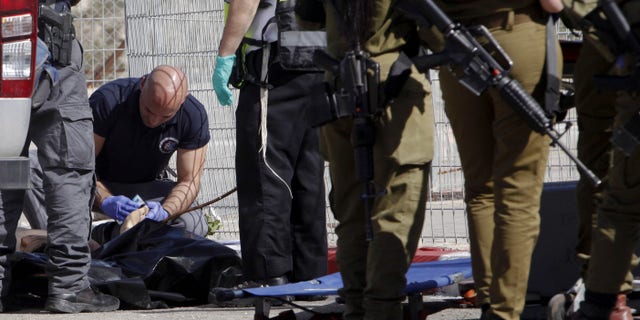 NEWYou can now listen to Fox News articles!
Three Palestinians were killed and another critically wounded while attempting to attack Israeli security forces in three separate incidents in the West Bank on Sunday, the Israeli military and police said.
In the first incident, the military said two Palestinians were throwing rocks at passing vehicles near the West Bank city of Jenin and when forces arrived at the scene Palestinians opened fire at them. The soldiers fired back and killed two Palestinians, the military said, adding that no soldiers were wounded in the exchange.
The Palestinian Health Ministry identified the two Palestinians as Nihad Waked and Fouad Waked, both 15 years old. They were from the same extended family in the West Bank village of al-Araka, near Jenin, but were not close relatives.
Later, at a West Bank security checkpoint on the outskirts of Jerusalem, a Palestinian gripping a knife ran at Israeli paramilitary border police officers, and an officer shot and killed him, Israeli police said. No Israeli officers were wounded. The Palestinian Health Ministry identified the Palestinian as 17-year-old Naim Safi of Abadiya village near Bethlehem.
In the evening, a Palestinian woman tried to stab a border police officer at a checkpoint in the southern West Bank city of Hebron, according to police spokeswoman Luba Samri. Forces shot her, wounding her critically.
In the last five months, Palestinian stabbings, shootings and vehicular assaults have killed 27 Israelis. At least 161 Palestinians, the majority of whom Israel says were attackers, have been killed by Israeli fire.
Israel says the ongoing violence is fueled by a campaign of incitement by Palestinian leaders that is compounded on social media sites that glorify attacks. Palestinians say it stems from frustration at nearly five decades of Israeli rule and dwindling hopes for gaining independence.
Also Sunday, a watchdog group said Israel began building 1,800 new settlement homes in the West Bank in 2015.
Peace Now, a dovish Israeli group that tracks settlement construction, said most of the building has taken place in isolated settlements in areas of the West Bank that Israel would likely evacuate in the event of a peace agreement with the Palestinians.
Israel captured the West Bank, Gaza Strip and east Jerusalem in the 1967 Mideast War and built settlements there. Israel withdrew from Gaza in 2005, but nearly 600,000 Israeli settlers remain in east Jerusalem and the West Bank.
The Palestinians claim these areas as parts of a future state, a position that has wide global support. They view Israeli settlement construction as a major obstacle to resolving the conflict.