Palestine Stakes a Claim to East Jerusalem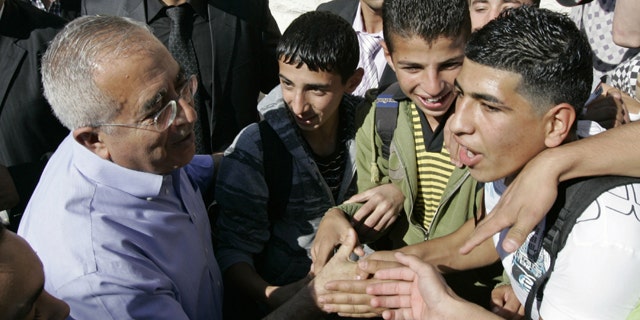 DAHIAT AL-BARID, West Bank – Palestinian Prime Minister Salam Fayyad on Tuesday staked a claim to Israeli-controlled east Jerusalem, announcing that his government quietly helped fund the renovation of 14 schools in what the Palestinians hope will be their capital.
However, Fayyad stopped short of a full-fledged confrontation with Israel. He heeded an Israeli warning not to set foot in Jerusalem for the announcement and instead chose a West Bank school on the edge of the city as a venue.
The fate of Jerusalem is one of the most difficult issues Israelis and Palestinians would have to try to resolve in a peace deal.
Peace talks, launched in September, have run aground over Israeli settlement construction and aren't even close to addressing the conflicting claims to Jerusalem. But President Barack Obama hopes to broker an agreement by next September, meaning the sides will be forced to make some difficult decisions if they stick to his timeline.
Israeli Prime Minister Benjamin Netanyahu has said he will not relinquish east Jerusalem, captured by Israel in the 1967 Mideast War and annexed. Successive Israeli governments have tried to assert control over east Jerusalem by suppressing any official Palestinian activity in the city.
Fayyad, who became prime minister in 2007, has devised a two-year program of building the institutions of a future Palestine. As part of the program, which is to be completed by August, Fayyad has also tried to push forward projects in areas Israel considers off-limits to Palestinian development, including east Jerusalem and 60 percent of the West Bank.
Tuesday's announcement about the school renovations marked his boldest public foray into east Jerusalem, though Fayyad's government is believed to have contributed quietly to other projects in the city.
An aide said the Palestinian Authority contributed more than $5 million, funneled through civic groups, to renovate 14 private Palestinian schools in east Jerusalem and an additional one on the edge of the city, in the West Bank suburb of Dahiat al-Barid, where Fayyad spoke Tuesday.
Renovating the schools "is an important achievement along our path toward freedom and independence," Fayyad said during a ceremony at the West Bank school. "The Palestinian state will be established in the West Bank and Gaza, with Jerusalem as its heart."
Investing in Jerusalem "is part of our responsibility, and we are not going to relinquish that," Fayyad added.
He acknowledged that he didn't enter Jerusalem because of the Israeli warnings, saying he didn't want to divert attention from the school program. Fayyad noted that, like other Palestinian officials, he is subject to Israeli restrictions on movement.
Israeli government spokesman Mark Regev said Palestinian government activity in Jerusalem is not permitted under the interim agreements that helped set up the Palestinian Authority. "They (the Palestinians) did commit not to conduct official Palestinian activities in Jerusalem, and Israel expects them to abide by that commitment," he said.
In peace making in the late 1990s, Israel permitted some bodies backed by the Palestine Liberation Organization to operate in east Jerusalem for some time, and never made good on its promise, as part of a U.S.-backed peace plan, to allow them to reopen.
In other developments Tuesday, two Israeli human rights groups said Israel's internal security service, the Shin Bet, mistreated detainees at a detention center in central Israel. The report by the B'Tselem and Hamoked groups is based on testimony from 121 Palestinian security prisoners and two right-wing Israeli detainees and covers the year 2009.
Detainees are held in cramped, filthy cells, some without windows and lighting that disrupts sleep, the report said. Security agents bind detainees to chairs during lengthy interrogations and sometimes insult, threaten or hit them -- procedures that the report said violate Israeli law.
The Israeli Justice Ministry denied many of the charges, saying the Shin Bet's procedures respect the law while seeking to prevent militant attacks on Israelis. It said prisoners have a chance to complain about their treatment.