Out with the old in Qatar but little change expected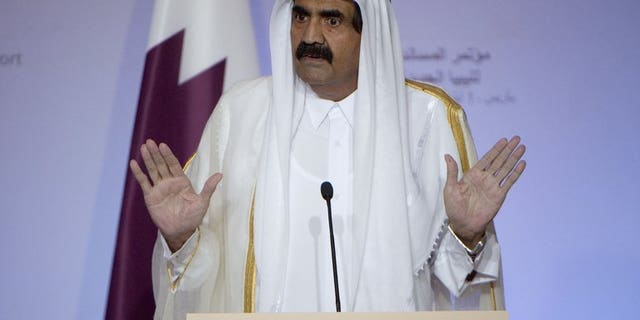 NEWYou can now listen to Fox News articles!
DOHA (AFP) – The succession of power in Qatar is not expected to disrupt the tiny Gulf state's rising international political influence or its role as an economic powerhouse with a global reach, analysts say.
The unprecedented decision by the 61-year-old emir, Sheikh Hamad bin Khalifa al-Thani, to abdicate in favour of his 33-year-old son Sheikh Tamim is expected to be followed by a government reshuffle that will also see the old guard take a bow, the experts add.
Sheikh Hamad announced his decision in a televised speech on Tuesday, saying it marks the "beginning of a new era in which a young leadership will hold the banner."
Hamad is stepping down after 18 years as the ruler of Qatar, a backwater which thanks to its immense gas wealth he drove into modernisation and a political and economic player to be reckoned with.
He is leaving his son a "stable country that has good ties with its Gulf neighbours, namely (oil powerhouse) Saudi Arabia," said analyst Abdelwahab Badrakhan.
"I don't expect any changes in the policies of Qatar," he told AFP.
British-educated Tamim is expected to gradually make his own mark and "find his way" although still following in his father's footsteps, Badrakhan added.
In 2010 Qatar became the richest country in the world per capita, thanks to a savvy and aggressive investment policy pursued by the emirate's sovereign wealth fund, the Qatar Investment Authority.
Under Hamad's rule it has built a multi-billion-dollar empire ranging from Germany's Volkswagen to French energy giant Total, Britain's Sainsbury supermarket chain and Barclays Bank.
Qatar also developed the first pan-Arab satellite channel, Al-Jazeera, which also broadcasts in English, and is preparing to conquer the United States with the launch of Al-Jazeera America.
The tiny Gulf peninsula holds the world's third largest gas reserves and produces roughly 77 million tonnes of liquefied natural gas per year, making it the world's largest supplier.
On the political front Qatar has played a role in Middle East affairs massively out of proportion to its size, becoming a major backer of the Arab Spring uprisings in both Libya and Syria.
Just last weekend, the Qatari capital hosted a meeting of the Friends of Syria group of Arab and Western governments that back the
Analyst Neil Partrick, an expert on the Gulf, said Tamim "is unlikely to affect major changes without consulting his father" due to the sensitive foreign portfolios that he will be dealing with.
French journalist Olivier Da Lage, an expert on Gulf affairs and author of several books including one on Qatar, agrees that Tamim is not expected to set about making changes.
"At first we should not expect spectacular changes in Qatar's policies which are part of a long-term strategy, wich has mostly succeeded," Da Lage said.
"The new emir will take his first steps under the watchful eyes of his father," he added. "In time he will tweak his style."
Salman Shaikh, who heads the Brookings Doha Centre, said Sheikh Hamad's decision to handover power to Tamim "is consistent with Qatar's policies".
He also expected no changes on the political and diplomatic front, echoing several analysts who stressed that Tamim had been groomed for years to take over from his father.
"Sheikh Tamim is not new and has been well prepared," he said.
But he expected the shift to "make waves in the region" where elderly leaders have been at the helms of power for decades.
Tamim now becomes the youngest ruler in the energy-rich Arab countries of the Gulf and has played a major role in improving relations with regional powerhouse Saudi Arabia that had been strained over a border dispute.
On Tuesday Saudi King Abdullah sent Tamim a message of congratulations and said: We are confident you will continue the journey of your father."