Ouattara Calls for Special Forces Removal of Ivory Coast President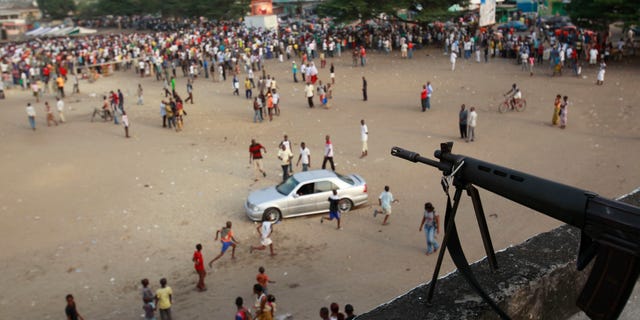 ABIDJAN, Ivory Coast -- Alassane Ouattara says special forces from West African nations should remove Ivory Coast's incumbent president from power, instead of a full-scale military operation.
The man recognized as the winner of Ivory Coast's November presidential election told The Associated Press that incumbent Laurent Gbagbo "is essentially at his residence or at the presidential palace" and his location can be quickly identified.
Ouattara said he wants elite forces to carry out the operation.
The regional bloc of West African states, ECOWAS, has threatened military action, but in recent days African leaders have shied away from making a commitment to an armed invasion. They fear mass casualties and a possible return to civil war.
Ouattara said in the interview that elite forces have previously carried out similar operations in Latin America and Africa "to remove the person who is the problem."
"So If ECOWAS do send in special forces with the objective of removing Mr. Gbagbo he will be removed, without much damage," Ouattara said. The interview took place in the seaside Golf Hotel, where Ouattara has been running a shadow government under protection of U.N. peacekeepers.
On Wednesday at a pro-Gbagbo rally, one of the incumbent's closest associates warned that any attempt to remove the 65-year-old Gbagbo by force will lead to war.
"We need to avoid that the Third World War begin in Ivory Coast ... No army in the world can come in and remove our president. It's in Abidjan that such a thing can happen," said Charles Ble Goude, who heads the Young Patriots, a militia-like organization.
Ouattara maintains that a military operation will not take much time or resources, and that if ECOWAS carries one out, Gbagbo will cave in immediately.
"I know Mr. Gbagbo. If he sees that ECOWAS troops are coming to capture him, believe me he will start running away. I know him well. He does not have the courage to face those type of situations," Ouattara said.
While the United Nations and other world powers recognize Ouattara as the winner, Gbagbo has refused to step down, insisting he won. Gbagbo has been in power for a decade and maintains control of the military. Human rights groups accuse his security forces of killing political opponents.
The African Union's envoy to Ivory Coast said Wednesday that a military ouster should be only a last resort.
Some 9,000 U.N. peacekeepers are in Ivory Coast but their mandate is to protect civilians, not participate in any military intervention.
Gbagbo came to power in 2000 and ruled during the civil war that erupted two years later, then overstayed his legal term which expired in 2005, claiming the country was too unstable to organize a poll. The election was rescheduled at least six times before it was finally held in October, with the runoff between himself and Ouattara held in November.