Orlando massacre was 'revenge,' not terrorism, shooter's alleged ex-lover says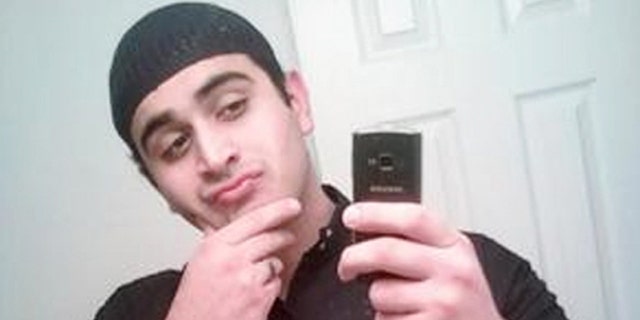 NEWYou can now listen to Fox News articles!
Omar Mateen, the gunman responsible for the massacre 11 days ago at a gay nightclub in Orlando, was purportedly "100 percent" gay and was angry with Latino men because he felt scorned by them, said a man who claimed to be Mateen's lover.
Speaking during an interview with Univision Noticias' anchor Maria Elena Salinas, the man – who wore a disguise and asked only to be identified as Miguel – said that Mateen was angry after a man whom he had sex with told him he was infected with the HIV virus.
"I've cried like you have no idea," the man said of the shooting. "But the thing that makes me want to tell the truth is that he didn't do it for terrorism. In my opinion he did it for revenge."
He added: "He adored Latinos, gay Latinos, with brown skin – but he felt rejected. He felt used by them – there were moments in the Pulse nightclub that made him feel really bad. Guys used him. That really affected him. I believe this crazy horrible thing he did – that was revenge."
The man said that he had approached the FBI and been interviewed by three agents but decided to make his claims public because it was his "responsibility as a citizen of the United States and a gay man."
Miguel said that he had met Mateen last year on a gay dating site and that the two began a relationship soon after. The man described his relationship with Mateen as "friends with benefits."
He described Mateen as "a very sweet guy" who loved to be cuddled.
"He was looking for love," Miguel said.
Mateen allegedly never revealed his real name to Miguel, saying only that he was 35 years old and married with a son. The two purportedly met between 15 and 20 times – the last time being in December – and Miguel believed that his marriage was a sham to hide his homosexuality.
Mateen also allegedly told Miguel that he was frustrated with his father's views of homosexuality, saying that his father thought that "gay people [are] the devil and gay people have to die."
Miguel also said that Mateen was terrified about having HIV after he had an encounter with two Puerto Rican men.
"He [Omar] was terrified that he was infected," he said. "I asked him, 'Did you do a test?' Yes. He went to the pharmacy and did the test … it came out negative but it doesn't come out right away. It takes four, five months."
Miguel said that Mateen had only once expressed anger over the United States' actions in the war on terrorism and the killing of innocent women and children.
"'I told him, you're totally right,'" Miguel said.
Attorney General Loretta Lynch said on Tuesday investigators may never pinpoint a single motive and have not ruled out witness reports suggesting Mateen might have been at Pulse before or had gay interests.
"While we know a lot more about him in terms of who he was and what he did, I do not want to definitively rule out any particular motivation here," she said, later adding, "It's entirely possible that he had a singular motive. It's entirely possible that he had a dual motive."
In a 911 call from the club, Mateen pledged solidarity with the Islamic State group, and Lynch said there's no doubt, based on evidence gathered during the investigation, that he had read and absorbed extremist propaganda on the internet.
"We believe that is certainly one avenue of radicalization, but we want to know if there are others," she said in the interview. "We want to know everything he did in the days, weeks and months leading up to this attack."
"We still do believe that this was an act of terror and an act of hate," she added.
The Associated Press contributed to this report.
Like us on Facebook
Follow us on Twitter & Instagram