Opinion: Future of North Dakota pipeline could also impact Latinos and their water quality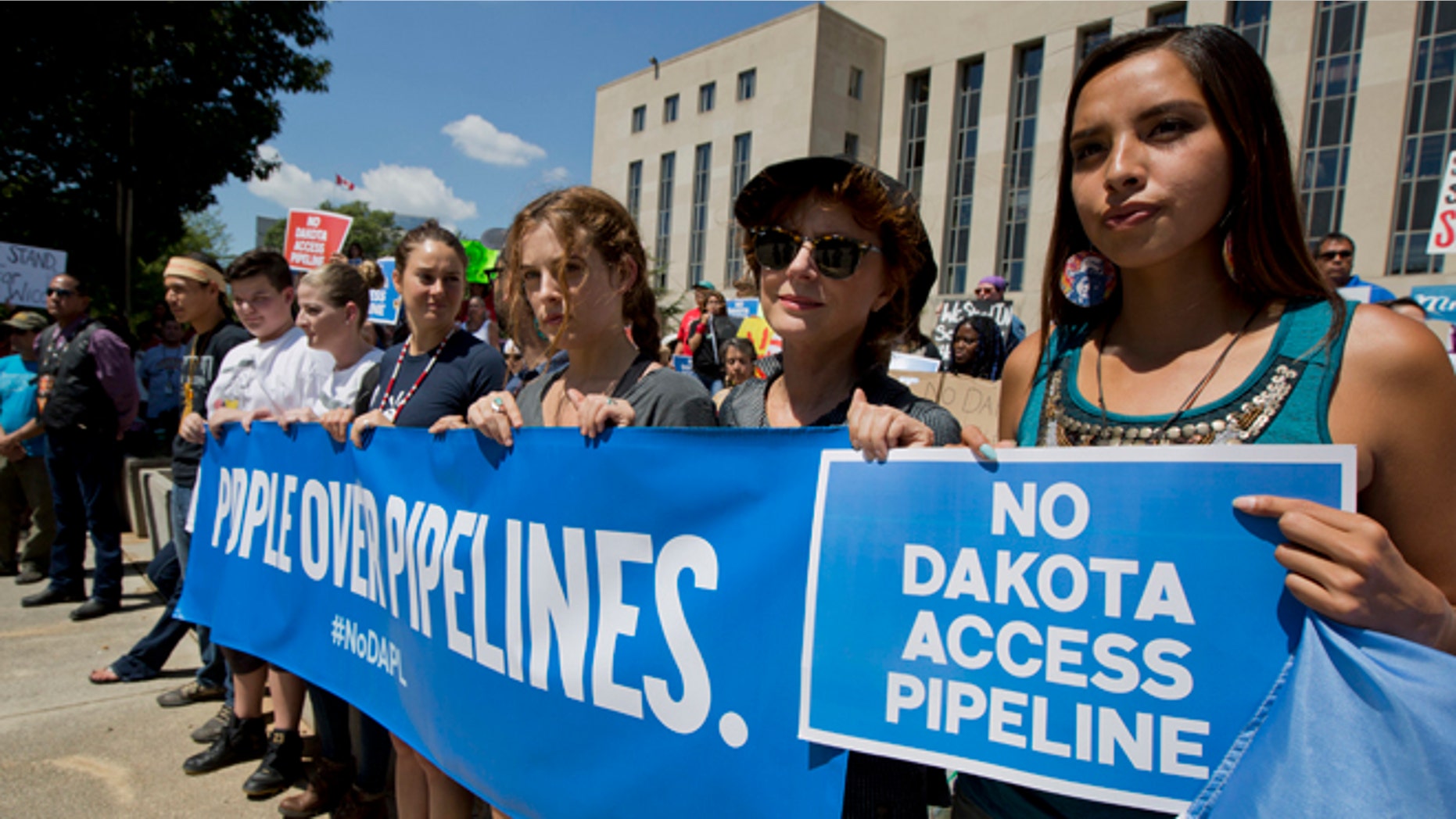 It is a major issue that has a disproportionately negative impact on the Latino community. It is playing out on the national stage – and it has nothing to do with building a wall.
It has to do with the construction of a pipeline.
The Dakota Access Pipeline (DAPL) would transport oil across four Midwestern states, starting in North Dakota, then running through South Dakota and Iowa before ending in Illinois.
The project – specifically the potentially catastrophic impact it could have on water – has been the subject of months-long protests by the Standing Rock Sioux and their supporters.
(The DAPL should not be confused with the heavily protested Keystone XL Pipeline, although the public outrage surrounding – including within the Native community – and ultimate failing of the Keystone XL project should have served as forewarning.)
The protests in North Dakota have swelled in recent weeks as supporters from across the country have joined the efforts. The situation came to a head this past weekend as site security guards pepper-sprayed and set dogs on a crowd of protesters that included children. On Tuesday, a federal judge ordered a temporary stop to construction ahead of a ruling on the overall case by Sept. 9.  

The case against the nearly $4 billion pipeline is – at the most basic level – about water.
Water is considered a sacred resource to not only the Sioux, but by many Native American tribes whose members have journeyed to the North Dakota-South Dakota border to stand in solidarity.
The construction of the pipeline would place it under the Missouri River, just a mile from Stand Rock's water intake – which supplies water to the entire reservation.
Any damage to the pipeline at that location in the near or distant future would almost certainly contaminate the entire reservation's water.
In a state that has already had to combat water contamination from fracking and the area's oil boom, the potential for devastation is not hypothetical, but something North Dakota has been dealing with for the better part of a decade.
Of course, with less than 15,000 Latinos in all of North Dakota (ranking it 49th in the nation in that regard), the state isn't exactly a hotbed of all things Hispanic. Neighboring South Dakota doesn't fare much better with 23,000 total Latinos (46th), so why should the Latino community be paying such close attention?
Because on a larger level, safe water is an issue that plagues a disproportionate number of minority communities.
The Flint water crisis, which affected a predominately African-American community, is only one recent example.
A report earlier this year highlighted ongoing water safety issues in California's Central Valley, where Latinos make up 40 percent of the population.
In fact, a 2011 study published in the American Journal of Public Health showed numerous reports of serious water quality issues appearing most prevalent in tribal communities, communities along the U.S.-Mexico border and in other predominately Latino communities.
That same study noted that "In California, the Environmental Justice Coalition for Water found that counties with the highest number of drinking water violations had a higher proportion of people of Latino ethnicity than counties with the lowest number of violations (42 percent versus 16 percent)."
It should be unacceptable that in a country like ours tens of thousands of individuals in Latino and tribal communities lack access to safe drinking water. Projects that would further jeopardize that access should be unthinkable.
There is also the undeniable reality surrounding the situation's further complexities — that as much as it is about water, it is also compounded by generations of systematic abuse and marginalization.
To date over 150 tribes have submitted letters of support or resolutions backing the Standing Rock Sioux.
And it is in no small part because many people in these communities see their histories and potentially their futures playing out on the North Dakota-South Dakota border.
Communities of color are disproportionately negatively impacted when it comes to these type of projects.
In fact, construction plans were revised to move the site closer to Standing Rock. And these projects too often benefit a microscopic clique of multi-millionaires and billionaires at the expense of affected communities – whether it's the luxury property developers and inner-city gentrification or big oil corporations and the DAPL.
At Standing Rock, the community is still dealing with the aftereffects of a dam project over a generation ago by the Army Corps of Engineers (the same planners who mapped out the DAPL) that annexed land by eminent domain and then flooded over 200,000 acres of reservation farmland.
With the DAPL posing a legitimate threat the community's water, it became a matter of enough is enough. The tribe has also asserted that the construction would destroy sacred and cultural sites. Now, what began as a trickle of protesters has swelled to become an international story gaining attention and perhaps evoking enough emotion to turn the tide.
"When we stick together, we have a powerful voice," said Dr. Erich Longie, a member of the Spirit Lake Dakota – one of the seven bands that along, with Standing Rock, comprise the Sioux Nation – and a tribal historic preservation officer.
On multiple occasions, Longie has traveled from Spirit Lake to Standing Rock to participate in the protests. He believes that the collective efforts of the Standing Rock Sioux and their allies, both Native and non-Native, could ultimately make the difference as to whether the pipeline proceeds — and that the impact of this event could reach much further.
"On a larger scale, minorities are tired of old white men running everything," Longie said. "I think we're seeing a seismic shift around what this protest could mean for a lot of communities."
Count the Latino community among them.