Obama says Ukraine crisis not 'a zero-sum game' as Russian forces overrun third Crimea base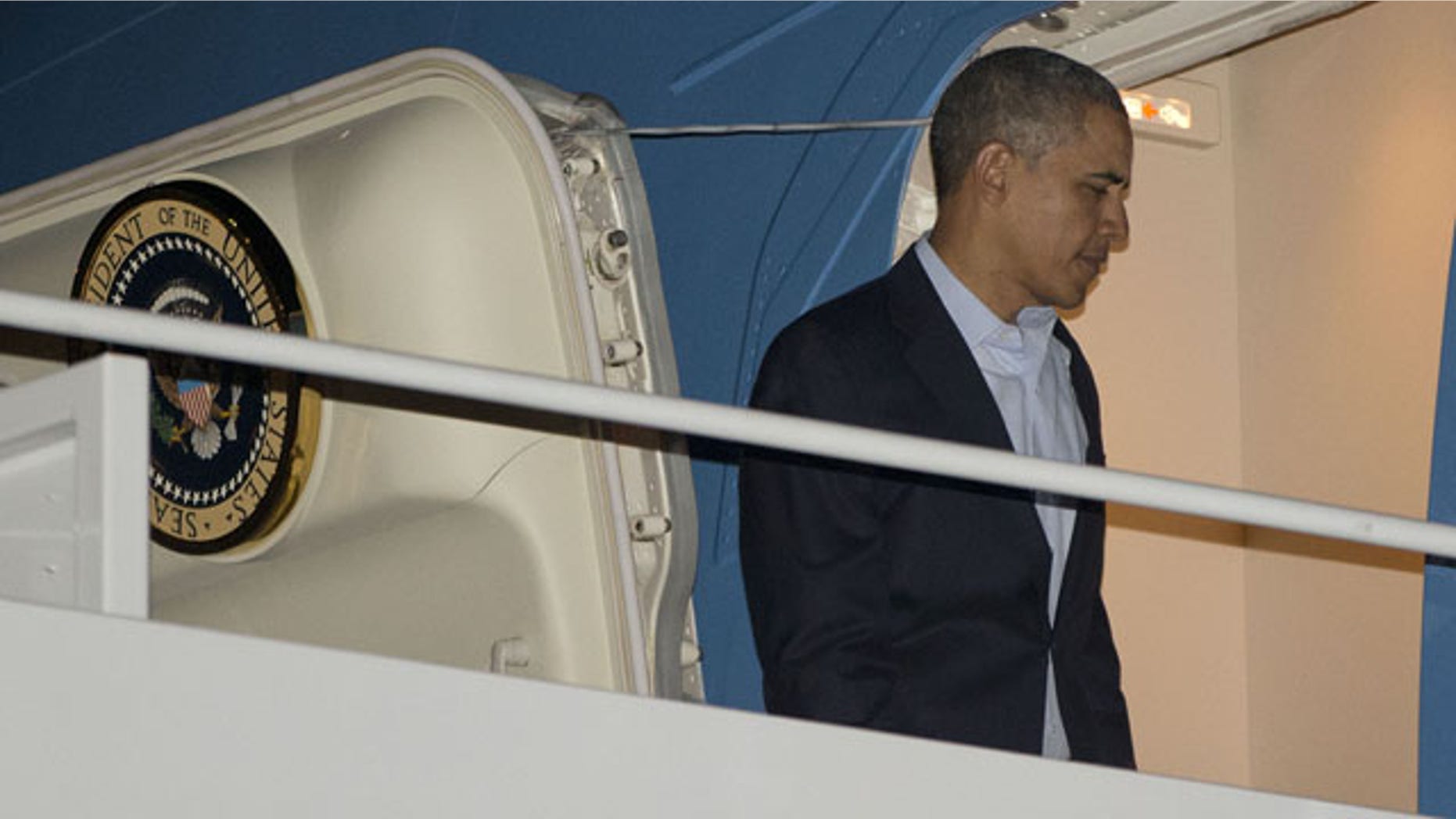 President Obama has told a Dutch newspaper that the United States does not see the ongoing crisis in Crimea and Ukraine as a "zero-sum game" between Washington and Moscow as pro-Russian forces reportedly overran a third Ukrainian military base in the Black Sea peninsula Monday.
In the interview, published in Monday's edition of de Volkskrant, Obama said, "The United States does not view Europe as a battleground between East and West, nor do we see the situation in Ukraine as a zero-sum game. That's the kind of thinking that should have ended with the Cold War."
The president went on to say, "The Ukrainian people do not have to choose between East and West. On the contrary, it's important that Ukraine have good relations with the United States, Russia, and Europe. As I've said, the future of Ukraine ought to be decided by the people of Ukraine."
Obama also addressed the possibility of additional sanctions against Russia, saying "There have to be consequences," if the crisis continued to escalate. "And if Russia continues to escalate the situation," Obama continued, "we need to be prepared to impose a greater cost."
This past Monday, Obama issued an executive order freezing the U.S. assets of seven Russian and four Ukrainian officials. On Friday, the European Union imposed sanctions against 12 members of Russian President Vladimir Putin's inner circle, including Russia's Deputy Prime Minister. In all, European leaders have hit 33 officials with asset freezes and visa bans.
The White House provided an English translation of the interview as Obama began a six-day trip that will take him to The Hague, Rome, Vatican City, and Riyadh, Saudi Arabia. The trip's European leg is expected to be dominated by discussion of the annexation of Crimea by Russia earlier this week.
Also Monday, Ukrainian officials told the BBC that Russian troops had seized another Ukrainian military base. Defense Ministry spokesman Vladislav Seleznyov claimed that the Russians attacked the naval base at Feodosia from two directions with the aid of automatic weapons and stun guns. Seleznyov also claimed that the Ukrainians were rounded up and the base's officers were bound by the invaders.
The Defense Ministry told the Associated Press that up to 80 Ukrainians had been detained on-site, and two injured servicemen had been taken away by helicopter. A soldier at the base told Reuters that the installation had been taken over and confirmed that shots had been fired.
The BBC reported that the Feodosia base had been surrounded by Russian forces for some time, but had remained one of the last bases under the control of the Kiev government.
On Sunday, NATO's top military commander, Gen. Philip Breedlove, warned that Russia had built up a "very, very sizeable and very, very ready" force on its border with Ukraine. Breedlove added that Russian President Vladimir Putin may be considering moving against another region with a large ethnic Russian population: Transdniestria, in the former Soviet republic of Moldova.
Transdniestria, which lies to the west of Ukraine, declared independence from Moldova in 1990, but it has not been recognized by any United Nations member state. Reuters reported that the speaker of Transdniestria's parliament has urged Russia to annex the region, as it did in Crimea.
Also Sunday, deputy national security adviser Tony Blinken told CNN's "State of the Union" that Russia seemed to be trying intimidate Ukrainians by massing thousands of troops along the border. But Blinken also said "it's possible they are preparing to move in."
Blinken said the U.S. was looking at providing military assistance to Ukraine. But he also said "it's very unlikely to change Russia's calculus and prevent an invasion."
Russia's defense chief has told Defense Secretary Chuck Hagel that Russia had no intention of crossing into Ukrainian territory.
The Associated Press contributed to this report.