Obama administration pondering new carbon emission pledge in wake of Warsaw climate change conference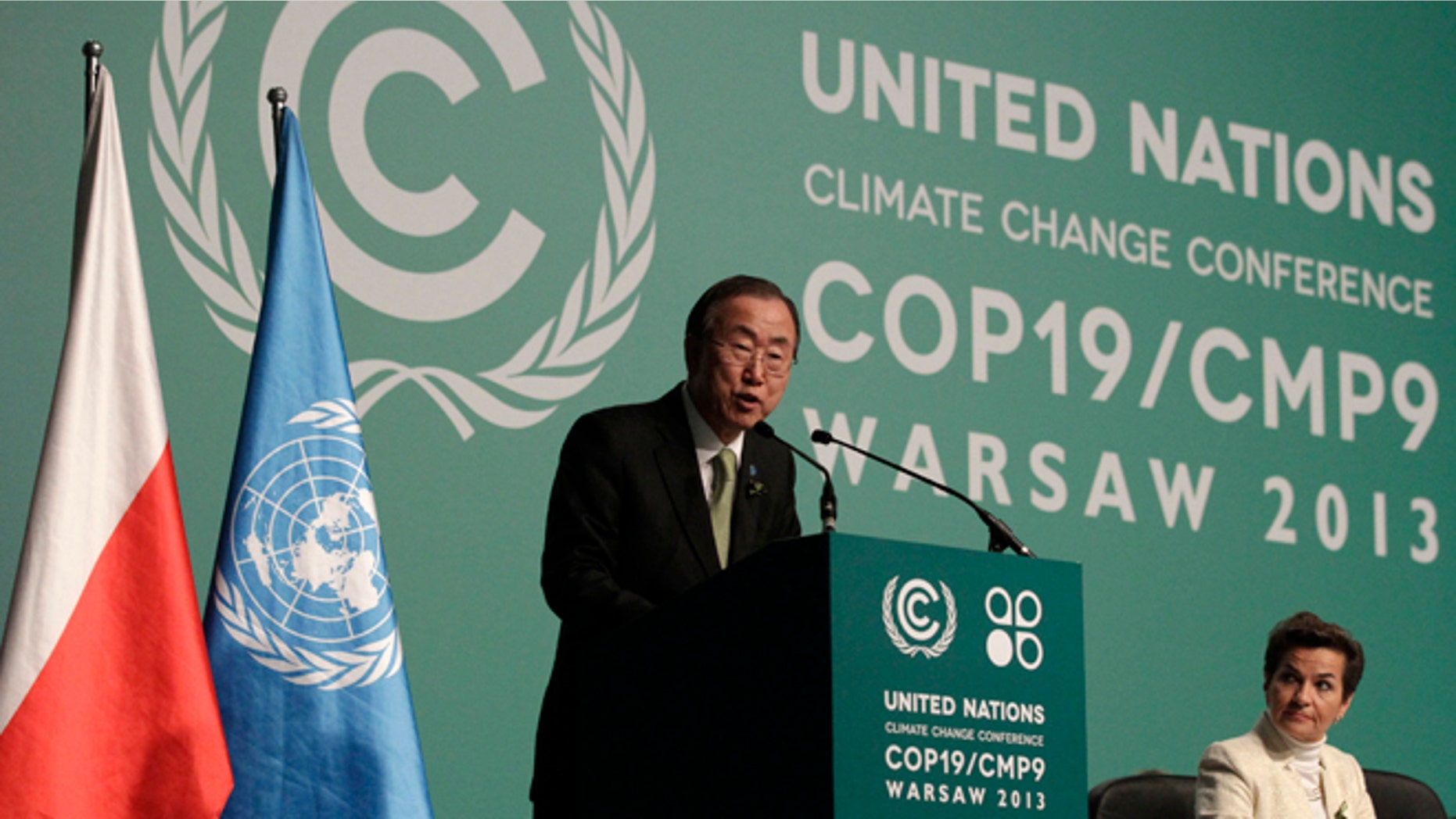 The Obama Administration is planning to introduce a pledge to make additional steep cuts in U.S. carbon emissions after 2020 in the wake of a little-noticed United Nations conference on greenhouse gas emissions that is the latest step toward a new treaty to take the place of the tattered Kyoto Protocol.
Just how dramatic the American pledge will be is not yet clear. A U.S. official at the conference taking place in Warsaw —who declined to be quoted directly—told Fox News that an amorphous White House inter-agency consulting process was still considering what the next U.S. reduction should be, and wasn't yet ready to put a hard number on the table.
Whatever it is eventually revealed to be, the next emissions reduction target will be introduced into the labyrinthine, U.N.-sponsored treaty process as itinches along for two years after the Warsaw meeting that is slated to end Friday. It will supposedly culminate at yet another major climate session in Paris in December 2015, where the successor treaty will—supporters hope—be adopted.
The administration itself says that its forthcoming emissions targets—and continuing staunch support for the war against "climate change"—are intended help to kick-start a virtuous competition among nations, spurred on by interest groups, hosts of non-government organizations, and the sprawling global network of United Nations organizations to push the faltering climate process away from the ditch of disinterest where it has increasingly been heading.
That virtuous competition is part of a new, smorgasbord-style approach that the U.S. is promoting for future pledges, " to ensure that each Party is constructing a commitment that reflects its national circumstances and full capabilities," as the administration puts it in a conference submission.
The elements could include anything from actual reductions to "research and development investments." These would all be discussed in a "consultative period"—length unspecified—to, among other things, judge their effectiveness.
And what if the commitments, in the end, don't all add up to enough? "Parties may come under pressure to revise upward, but it will ultimately be their choice," the U.S. submission paper states.
Indeed, the U.S. proposal looks a lot like a strategy that would work best on countries like the U.S. itself, where government will-power, a diversified and sophisticated economy, and large numbers of climate activists and lobbyists are all available to push the process along.
"It may be a key to these climate meetings that they provide a forum to say that we need to do this to comply with our international obligations," observes Dan Simmons, director of regulatory and state affairs at the Institute for Energy Research, a think-tank that supports the promotion of all types of energy, including fossil fuels.
"The fact is that developing countries are backing away from new binding commitments on climate change," he adds. "I think the administration thinks it gives them a stronger footing to push unpopular programs at home."
Indeed, the new U.S. strategy for climate negotiations follows a welter of new Administration initiatives--buttressed most recently by a presidential climate action plan unveiled in June-- that use sharp increases in U.S. auto fuel economy standards, massive mandated cuts in emissions from coal-fired electrical power plants, and tens of billions of dollars in new spending on renewable energy, among other things to help meet the Administration's current international pledge to cut U.S. greenhouse gas emissions in the "range of 17 percent" from 2005 levels by 2020.
Almost all of those measures are being undertaken as regulatory and executive actions, due to legislative resistance, and not only among Republicans, to further growth-crimping climate legislation.
Yet another major administration initiative, gleaned from the action plan, is a pact with China to pursue major reductions in the amount of hydrofluorocarbons, or HFCs—chemicals used in refrigeration, air conditioning and insulating foam—that are considered more than 11,000 times more powerful than carbon dioxide as greenhouse gases.
A major irony is that HFCs took off in popularity for industrial use as replacements for yet another group of chemicals that were discovered to be attacking the earth's ozone layer. Moreover, HFCs are cheap to produce, meaning that in the case of a U.N.-sponsored system for creating carbon-reduction credits, for example the reward for destroying it creates an incentive to produce even more of the gas—for what some critics have decried as billions of dollars worth of windfall profits.
In addition, the U.S. negotiators in Warsaw, according to a State Department submission to the conference, also intend to work "to end public financing for new coal-fired power plants internationally, except in rare circumstances," so far in conjunction with a small platoon of northern European countries: Denmark, Finland, Sweden, Norway and Iceland.
In the case of the U.S., this would mean cutting back on the financing of such plants by the Export-Import Bank, the Overseas Private Investment Corporation, and other agencies, as well as lobbying against such financing where possible at such institutions as the World Bank.
The fact is, without the spate of recent Administration activity, the U.S. itself would be a far distance from meeting its 17 percent target under the global climate change regime. And it would be far from alone, as a significant number of other important industrialized countries have fallen behind on their pledges, or dropped out entirely.
Canada, for example, formally dropped out of the Kyoto treaty in December 2011, the first country to do so. Both Russia and Japan announced that they would not participate in the treaty's second phase, which began this year.
As for the U.S., it signed the Kyoto treaty but never ratified it—because, among other things, India and China, which is now the globe's biggest greenhouse gas creator, were not included. The current U.S. target was pledged by President Obama at a 2009 climate conference in Copenhagen to prevent the entire convoluted process of combating "climate change" from going into a fatal tailspin.
Without the latest administration volley of initiatives, in other words, the process looked to be on the verge of, at best, a lengthy stall, and there is still a major "ambition gap" in reaching the collective targets for 2020, where the new treaty is supposed to take over.
The U.S. official who spoke to Fox News indicated that further ambitious U.S. action is still considered to be critical to the entire process.
One area of likely additional importance: the use and maintenance of forest "carbon sinks" and other forms of land use to keep carbon from being emitted into the atmosphere—another challenge for carbon emissions calculation, and a likely source of longer-term contention over environmental vs. other forms of land use, such as agriculture.
In a videotaped appearance at the Warsaw meeting, Secretary of State John Kerry announced a $280 million program sponsored by the U.S., Britain and Norway for forest preservation and sustainable land use. It was, he said, intended to spur further investment from the private sector, and was "a critical new tool to help us meet our responsibilities to future generations."
As one sign of the challenging times for the administration and other supporters of the battle against "climate change," however, the new tool was apparently being pieced together with re-purposed money from other initiatives.
The U.S. share amounted to about $25 million—a long way from filling the "ambition gap."
George Russell is editor-at-large of Fox News and can be found on Twitter @GeorgeRussell