'Not enough coffins' after deadly Taliban attack on Afghanistan army base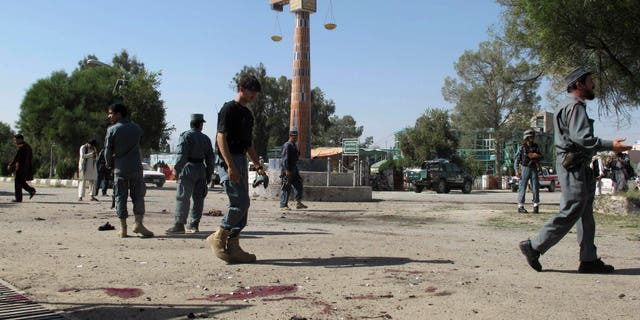 Just over a week after the U.S military galvanized headlines by dropping its largest non-nuclear bomb to destroy tunnels created by ISIS's branch in Afghanistan, the country experienced the deadliest attack on its military since the sixteen-year conflict began.
An estimated ten Taliban insurgents on Friday made their way through multiple checkpoints dressed in military attire, flashing what appeared to be authentic identification cards, to launch an attack at the mosque at the 209 Shaheen Army Corps' base following morning prayers. Three of the attackers detonated suicide vests while others reportedly opened fire and threw grenades, slaughtering at least 135 Army soldiers – with officials fearing the number could climb as high as 200.
"Today, there was a shortage of coffins," Balkh Province council member Ibrahim Khairandish declared in the aftermath of the incursion.
Mawlawi Ahmadullah – who has been the Imam at the Army's Mosque where the horrific attack happened for a decade – has said luck was on his side as he was not there that morning, but was close enough to hear the gunfire. However, Ahmadullah said his brother – a newly-married unit commander – was killed in the onslaught.
"Enemies once again demonstrated their barbaric action toward the people of Afghanistan," Ahmaduallah told Afghanistan's 24-hour news station, TOLONews. "Insurgents commit crimes in the name of Islam and it is a horrific trend."
TALIBAN'S SURPRISE ATTACK FORCED 30 COALITION TROOPS TO 'SHELTER IN PLACE'
US AIRSTRIKE KILLS TALIBAN SHADOW GOVERNOR IN AFGHANISTAN SOUGHT SINCE 2011
It remains unclear as to whether the assailants were members of the Afghanistan Army since recruited by the Taliban, or if they were soldier impersonators. The Taliban has long been known to use both methods to infiltrate the U.S-supported government military, often using coercive intimidation tactics such as kidnapping family members to convince soldiers to strike their own. Deep tribal grievances and distrust is also rampant within military units, giving Taliban operatives opportunities to pervade.
Abdul Qahar, spokesperson for the military corps, stated that the attack was "planned outside the country," and President Ashraf Ghani – who visited the base and declared Sunday a national day of mourning – has ordered an investigation to determine if there was insider involvement.
An unprecedented 6,700 Afghan security forces lost their lives in 2016 and many experts and officials fear that Afghanistan is fast deteriorating despite the continued U.S troop presence and the trillions of dollars that have been spent. Gen. John W. Nicholson, head of the U.S Forces Afghanistan, recently requested a few thousand additional ground troops to help with training local security forces in what is fast emerging as an intractable war.
FoxNews.com's Hollie McKay contributed to this report.