Norway Justice Employees Missing After Massacre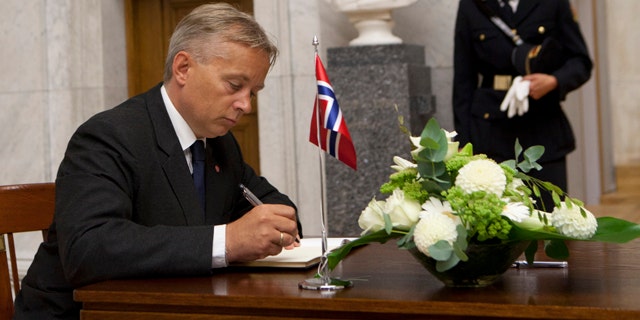 Norway's justice minister told reporters Tuesday that employees from his department are still missing after a bombing at government headquarters in Oslo and a shooting spree on a nearby island that killed at least 76. Police plan to start publicly naming the dead for the first time Tuesday.
There is a particular focus on identifying the dead since authorities dramatically lowered the death toll Monday, apparently because they counted 18 bodies twice in the confusion following the massacre. They initially said 86 people died on the island, but now say the figure is 68.
Anders Behring Breivik has confessed to last week's bombing in the capital and a rampage at a Labor Party retreat for young people. But he has pleaded not guilty to the terrorism charges he faces, claiming he acted to save Europe from what he says is Muslim colonization.
"The Justice Ministry has people who are missing, we have people who are very hard hit by this and we are without offices," minister Knut Storberget told reporters.
Storberget also offered a defense of the police in response to a question about the mounting admissions of missteps.
Police have acknowledged that they took 90 minutes to reach Utoya island, where a gunman was picking off young people attending a retreat for the Labor Party's youth wing. They weren't able to deploy a helicopter because the entire crew had been sent on vacation. Victims who called emergency services from the midst of the massacre reported being told to stay off the line because authorities were dealing with the Oslo bombing.
"I feel the police have delivered well in this situation. I also feel they've delivered especially well on the points where there's been criticism raised," said Storberget.
When asked if police would open an investigation into their conduct, Storberget indicated that such a probe was for the future.
"It's very important that we have an open and critical discussion about how all sections of society handle a situation. ... But there's a time for everything, and we have been fully focused and continue to be focused on taking care of all those that have been affected," said Storberget.
Breivik made his first appearance in court on Monday to answer the terrorism charges against him. He calmly told the court that he committed the massacre but pleaded not guilty because he acted to save Europe from "Muslim domination." His plea guarantees him future court hearings and opportunities to address the public, even indirectly -- a chilling thought given that he has claimed the killings were meant to serve as "marketing" for his 1,500-page manifesto.
Prosecutor Christian Hatlo said Breivik "seemed unaffected by what has happened."
Norway has been stunned by the attacks and riveted by Breivik's paranoid and disturbing writings. Hundreds thronged the courthouse Monday, hoping to get their first glimpse of the man.
Meanwhile, tens of thousands of Norwegians defied Breivik's rhetoric of hate Tuesday to gather in central Oslo to mourn the victims and lay thousands of flowers around the city. Roses a few feet deep still covered the plaza in front of the cathedral a day later.
Police believe Breivik, 32, acted alone, despite his grand claims in the manifesto that he belongs to a modern group of crusaders. But they have not completely ruled out that he had accomplices.
Judge Kim Heger ordered Breivik held for eight weeks, including four in isolation, noting his reference to "two more cells within our organization."
Authorities say Breivik used two weapons during the island attack -- both bought legally, according to his manifesto. A doctor treating victims told The Associated Press the gunman used illegal "dum-dum"-style bullets designed to disintegrate inside the body and cause maximum internal damage.
Breivik faces 21 years in prison for the terrorism charges, but he has told authorities he never expects to be released. While 21 years is the stiffest sentence a Norwegian judge can hand down, a special sentence can be given to prisoners deemed a danger to society, who are locked up for 20-year sentences that can be renewed indefinitely.
In Breivik's court appearance, he alluded to two other "cells" of his network -- which he refers to in his manifesto as a new "Knights Templar," the medieval cabal of crusaders who protected Christian pilgrims in the Holy Land.
In the treatise, he describes being invited to join the group, which he says is dedicated to "anti-jihad," and claims members held meetings in London and the Baltics. Afterward, he says, they vowed not to contact one another and to instead plan their "resistance" on their own.
But they were also to space out their attacks, he wrote. "We should avoid any immediate follow-up attacks as it would negate the shock effect of the subsequent attacks. A large successful attack every 5-12 years was optimal," he wrote.
At one point, his manifesto briefly referred to an intention to contact two other cells, but no details were given.
European security officials said they were aware of increased Internet chatter from individuals claiming they belonged to the Knights Templar and were investigating claims that Breivik, and other far-right individuals, attended a London meeting of the group in 2002.