North Korean diplomat slams U.S. for joint military drills with South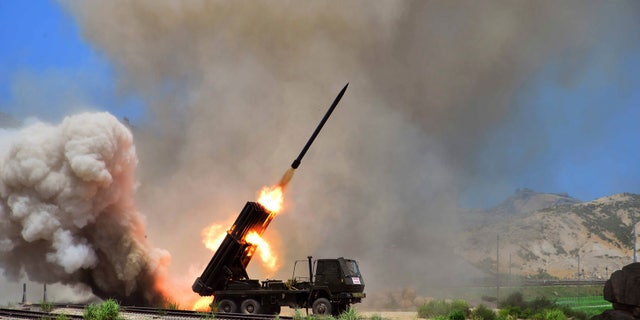 North Korea's envoy to the United Nations has accused the U.S. of behaving like a "mentally retarded patient," by participating in military exercises with South Korea.
Diplomat Ro Tong Il told reporters at the U.N. Friday that his government is outraged by the recent military drills off the coast of the Korean Peninsula.
"All these facts clearly indicate the U.S. is misbehaving militarily in order to undermine dialogue (and) easing of tension and north-south (Koreas') relationship improvement. It is reminding us of the historical last symptom of a mentally retarded patient."
North Korea's long-range missiles are targeting the U.S., Il said, because Americans have targeted Pyongyang with long-range missiles.
"The U.S. is the root cause of the danger and tension of war on the Korean peninsula. North Korea has never conducted war exercises on the doorstep on the United States. The U.S. is doing this to North Korea and saying they want regime change," Il said.
The U.S. Navy conducted a five-day joint naval drill with South Korea that began July 16, about 200 nautical miles of the west coast off South Korea, The New York Times reported. Officers aboard the U.S.S. George Washington said their jets conducted 108 sorties in one day during the drills. Six American ships, a large number of South Korean Navy vessels, and U.S. and South Korean Air Force combat aircraft participated in the drills.
North Korea responded to the drills by firing four short-range missiles toward the ocean off its east coast on July 26 and July 30, South Korean Defense Ministry officials said.
The incidents were the latest in a series of missile and artillery tests carried out by North Korea this year. Although the North routinely test-fires missiles, artillery and rockets, the number of tests this year is much higher than in previous years.
Outside analysts say this indicates that North Korea's young leader, Kim Jong Un, is handling things differently than his late father, Kim Jong Il, who used longer-range missile and nuclear tests sparingly as negotiating tools with the outside world to win concessions. Kim Jong Un inherited power upon his father's death in December 2011.
When asked by Fox News Friday about the fate of the Americans held in North Korea, Il refused to comment, but said the three men -- Kenneth Bae, Matthew Todd Miller and Jeffrey Edward Fowle-- were acting illegally when they were arrested.
Washington has no diplomatic ties with North Korea and no embassy in Pyongyang. Instead, the Swedish Embassy takes responsibility for U.S. consular affairs there.
Fox News' Jonathan Wachtel and The Associated Press contributed to this report. .