North Korea says country 'safer than an evening walk in London,' as it targets Russian tourists
North Korea, amid near daily proclamations promising doom and death to America, has approved a travel agency in Russia as a way to coax adventurous travelers into visiting the hermit kingdom.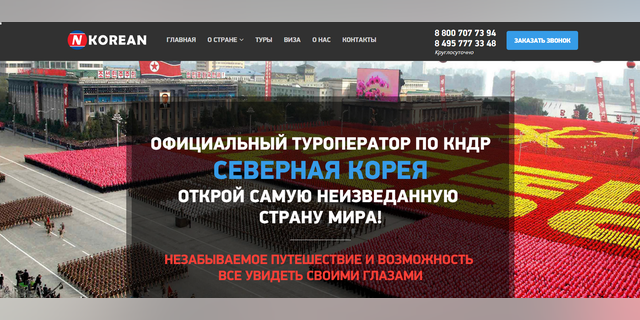 While the travel agency boasts of North Korea's beaches, mineral water factories and beer festivals, the literature makes no mention of the gulags and work camps dictator Kim Jong Un has thrown thousands of his citizens in to. Nor does the travel company play up the foreigners -- including Americans -- who've been imprisoned and tortured for the most inane of perceived offenses.
NKOREAN.RU was launched in Russia with the approval of North Korea, Reuters reported. The agency is the first in Moscow to offer visits to North Korea for "groups of up to 10 people or individuals to show the travelers the multi-faceted life of this most closed of countries," according to Reuters.
NORTH KOREA PLANS KNOCK-OFF OF SPANISH RESORT KNOWN FOR DRINKING BINGES
Before starting the journey, guests will be "checked" by North Korean officials and be escorted by a tour guide "who will monitor the adequate behavior of the tourist and guarantee his safety," according to the agency's website.
The website guaranteed travelers would be "safer than an evening walk in London," according to Reuters.
The most expensive tour, which costs about $1,997, offers a traveler 15 days in the country as they experience "the full immersion in the culture of North Korea." The tour would include traveling to a Buddhist temple, museums, a mineral water factory and a farm. The less expensive tours offer travelers a day at the beach and a beer festival.
NORTH KOREANS TORTURED AND KILLED OVER RELIGIOUS BELIEFS, NEW STATE DEPARTMENT REPORT SAYS
Last month, Secretary of State Rex Tillerson announced plans to implement a "geographical travel restriction" for North Korea, which would make the use of a U.S. passport to enter the rogue regime's borders illegal. The announcement followed the detention and death of University of Virginia student Otto Warmbier.
This week, the Trump administration imposed sanctions on 16 mainly Chinese and Russian companies and people for assisting North Korea's nuclear and ballistic missile programs, and helping Pyongyang make money to support those programs. Russia criticized the sanctions and warned the U.S. it would consider retaliation.
The Associated Press contributed to this report.